Okay, so I wanted to post this to share some Hopefully helpful information with those who want to start editing their images for modeling competitions or anything else. There ARE several FREE artistic programs available! I have listed below some of the sites I find helpful or useful.
FREE IMAGE SOFTWARE:
FREE is Always Nice  
*These 3 have not been tested, please let me know if you use these, so I can share your experience.
FotoFlexer
Online Image Editor
Edit Images for Free
Free Adobe Photoshop CS2 with Serial numbers
-Thanks to
@myfavoritedesign
for this share.  
-There have been some who experience problems when using with Windows 10. Please check out Adobe's Forum
HERE
to read more. *Thanks to @"mamajanaynay " for sharing this information.  
GIMP 2.6
(Link Below)
http://www.gimp.org/
 ***The Official Site***
(You can also download a Gimp manual here in your language)
***EDIT: 2.8 is now available (has all boxes together now)***
Other site links for Gimp (there are many more, these are just 2 I use)
http://download.cnet.com/GIMP/3000-2192_4-10073935.html
***I like to use this 1 because it gives a little info that explains a little about Gimp
http://getgimp.com/lp/index.php
(this one also gives a little info too)
GIMP PLUG-INS:
http://www.techzilo.com/gimp-plugins/
NOTE: I like using this link because it has several different links for other helpful Gimp tools, +1400 Gimp brushes, Gimp tutorial links, designing, plugins, etc. You can also click on the "Related Sources" column on the left-hand side of the page for specific instructions on "how-to" install scripts, brushes, etc. into your Gimp (sort of like installing cc in your game Mods & Package folders) ***This is really helpful if your plug-ins didn't/don't install with your Gimp download (like mine didn't originally)
Paint.net
Link below
http://www.paint.net/
This will take you to the link for installing paint.net & then you will be able to open from your desktop icon that will appear once you've finished installing.
COST: FREE
Magic Xtreme
Link below
http://www.softpedia.com/get/Multimedia/Graphic/Graphic-Editors/MAGIX-Xtreme-Photo-Designer.shtml
(I like using this link because once again it gives a little info on what this does...there area other sites you can download from too)
COST: FREE
GOOD PROGRAMS/BUT NOT FREE:
COREL PAINT SHOP PRO
REG. PRICE: $79.99/US
HERE
COREL SITE PRICE: 59.99-79.99/US (Link below to Corel site)
https://www.paintshoppro.com/en/
*COREL ALLOWS YOU TO DOWNLOAD A FREE-TRIAL OF THEIR SOFTWARE (You can even download the much more pricey artistic programs!)*
*AMAZON is a good shopping alternative for any program (Link to Amazon below)
http://www.amazon.com/
NOTE: I actually really like Corel Products/Software....I have several of their programs. (I do have Corel PaintShop Pro X4)
PHOTOSHOP
Link below
https://www.adobe.com/products/photoshop.html
(PhotoShop CC)
PRICE: $10.00/month US
***PS ALLOWS YOU TO DOWNLOAD A FREE-TRIAL OF THIS SOFTWARE***
Some Office/Business/Art Programs:
Don't pay hundreds of dollars for Adobe programs when you can pay as you go, monthly. Adobe, unlike Corel, offers their programs at a monthly cost which allows you to always have the current version of any of their Creative Cloud programs!  
Adobe Creative Cloud
Students and Teachers $19.99/month
Individuals $49.99/month
Business $29.99/month
Kingsoft Office
*An alternative to MS Office
FREE
Business Version: $79.99
Serif PagesPlus X9
Now only $24.99
*(No longer offers updates for Pages Plus because their newest product is Affinity, but Pages Plus is an excellent publishing program.)
EASILY CUT-OUT IMAGES:
(Special Thanks to Mamajananay for this find!!!)
[/color][/size]
Hey Amy, I came across this site that is really easy to use for cutting out pictures/screenshots.
clipping magic
*(This program is no longer free)
*Some alternatives to try:
FotoFlexer
Online Image Editor
Edit Images for Free
Clipping Magic (NOT FREE): There is no downloading, click on the link, choose the photo you want, when it loads up it gives you two of the pictures you uploaded. The one on the left is the one you mark, the right side helps when doing your final editing and will show you your downloadable result. See my pictures below:
before cutting
during editing
finished result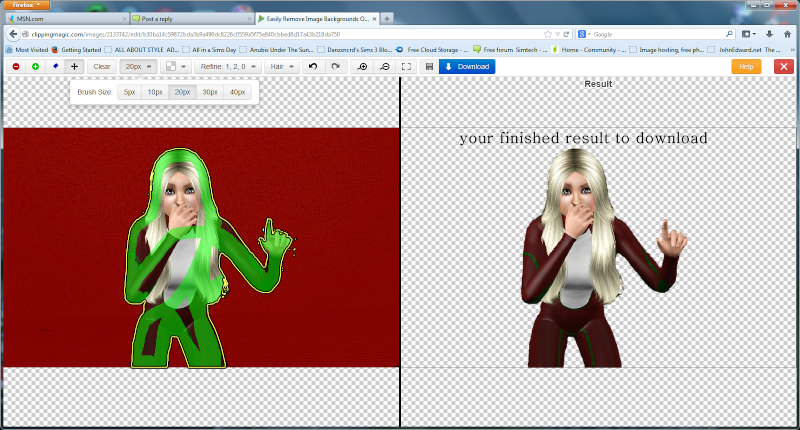 you can zoom in to get really close to get into all those tight spots, around fingers, hairs, etc. I absolutely love this program as Gimp and I are like oil and vinegar! LOL
Here is a link to Creative Nerds with a list of *25 FREE MUST DOWNLOAD PROGRAMS*
http://creativenerds.co.uk/freebies/25-free-must-download-design-programs/
(I have this bookmarked, lol)
Below is a list of the free creative software downloads that are available there:IMAGE EDITING
1. Paint.net                                
2. Gimp 2.6.6                            
3. Xara Xtreme                          
4. Active Pixels                          
5. Paint Star                                
6. Picassa 3.1 Build 71.43
7. Art Weaver
8. VCW ViMan's Photo Editor
9. Photo Pos Lite
10. Magix Xtreme Photo Designer
ILLUSTRATION DESIGN PROGRAMS
11. Inkscape                                
12. Draw Plus4                          
13. Karbon                                    
14. Insight Point
15. Smooth Draw17. Spray vector generator 1.1
16. Pencil 0.4.4b
17. Spray vector generator 1.1
3D MODELING
18. Blender
19. K-3d
20. 3D Plus 2
21. Google Sketch up
22. 3D Canvas
ANIMATION PROGRAMS
23. Synfig
24. Touch Art
25. anim pixels
NOTE: Many of these programs are VERY user friendly & easy to navigate/understand & ALL ARE FREE.
I just wanted to share these sites & information. Hopefully this is helpful to someone. You CAN do editing if you want to WITHOUT spending money. I personally have: Adobe Creative Cloud (Illustrator, Photoshop, & InDesign), Corel Painter, Paint Tool Sai, Paint.net, Gimp, Corel Paint ShopPro, Movavi, and Serif Pages Plus installed. Each program will have its own unique ups & downs....just go with the one YOU like best. NOTE: Most tutorials for the Sims are usually done for either Gimp or PhotoShop though. So you will probably figure many things out on your own, but it's fun to learn new things!!! (or maybe it's just me who likes to learn, LOL) Also, although I do have some of the programs....I have rarely edit for simming competitions I have been in. Nothing to do with the programs....more to do with my lifestyle & available time. I personally am one of those that get VERY into what I'm doing...so if I can't give something my full attention I tend to like to wait until I can.
If there is anything inaccurate about any of the other links, or you have used any of the listed programs & would like to share your experience with it....please just post.