I'm going to show you how to merge your CC package files into one neat little package.
What you'll need:
Sims 4 Studio
(If you don't have S4S, you will need to register, it's free, and then go to Sims 4 Section and download the latest version. I'll be using Wishes version for this tut.)
Game
Prep your files! BACK UP, BACK UP, BACK UP YOUR MODS FOLDER!
Step 1:
Load up S4S > go to Tools tab > Merge Packages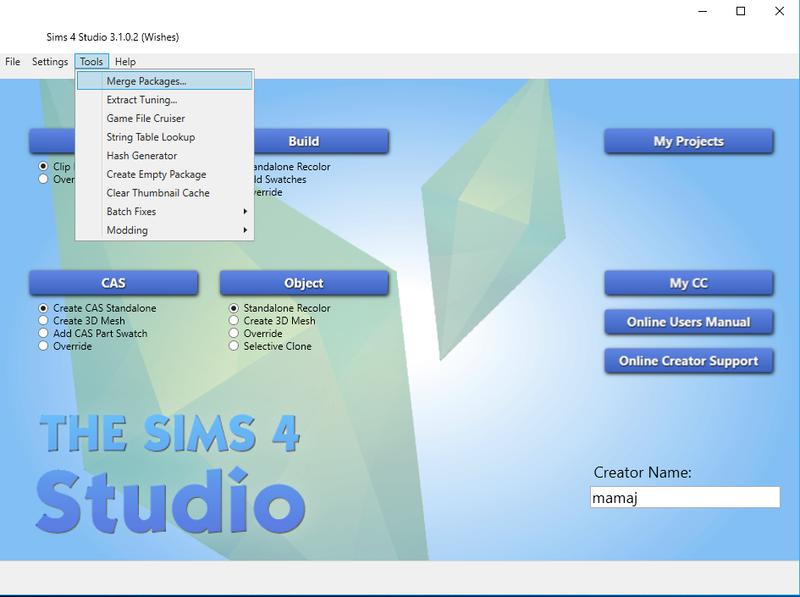 Step 2:
You'll get a little box that will open up next that will look like the picture below. You'll notice a "ADD" and "REMOVE" button. Click on the "ADD" button. **Before you go any further, if you haven't done so yet, BACK UP YOUR MODS FOLDER, NOW!**
Step 3:
Next you will be prompted to find your Sims 4 folder. Go to Documents>Electronic Arts>Sims4>Mods click Open at each step for this process till you have your mods folder open. (Your mods folder may look different from mine, it all depends on how you have your mods/CC in your folder. I have mine sectioned off for easier finding of any I wish to remove due to I either don't use it, it didn't look good in my game or it was corrupt. Yeah it happens)
Step 4:
You can merge as many items you want into one package. For this tut, I am going to merge all of my build mode cc items into one little package. So I go to each one: Doors, floors, windows and walls. Open each one and highlight all in each folder and select "Open" after each folder or item you wish to merge.  
Step 5:
Once you have selected all of the files you wish to merge together, this is what it will look in the picture below. Go ahead and click on the "Merge" button if you are ready. **Note: If there is something in the list that you don't want there, click on it and click on the "Remove" button.**
This is what it will look like as your packages are being merged:
Step 6:
When your packages have finished being merged, you will get a pop up message telling you xx out of xx packages were merged. You will be prompted to name your new package.
Step 7:
Now check your mods folder to find your newly merged package. Because I have mine all in separate category folders and flooring was the last folder I add to the merge list, I found my new merged package in my flooring folder.
**Note: Make sure you have backed up your mods or mods folder!**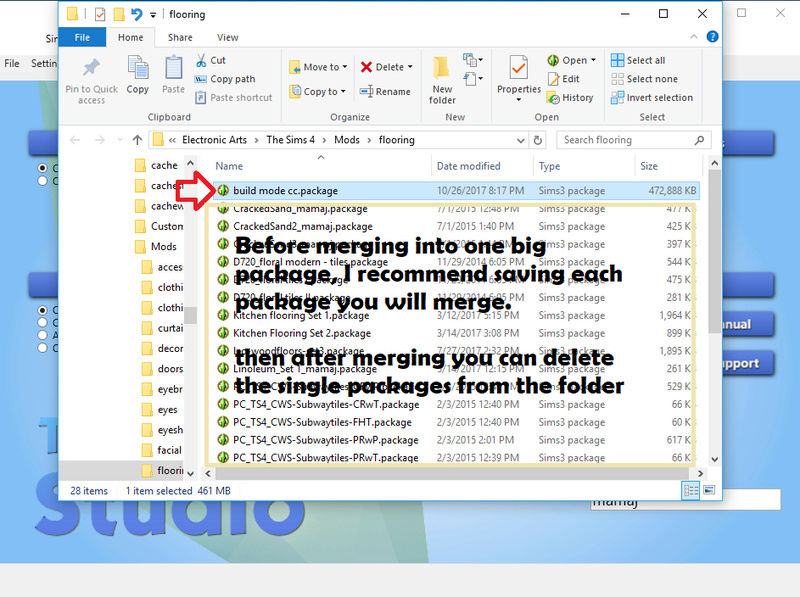 Step 8:
Go in game and check to make sure all the mods you merged are still there. Once you are satisfied that your mods that were merged are still in your game after you have exited out of your game you can change the file (if your mods folder is like mine) and rename the folder.