Hello fellow simmers, I thought I would start a legacy type story thing
Well it's like a legacy in the fact we will have heirs and an on going family through the generations, but more like a fun little story revolving round my simself and my other half Jacko.
All chapters are fictional in the fact we are "Sims" in this but some conversations will be loosely based on how we are in Real Life ... should be fun I think
To begin with we are living in a house that I built...yep Me!! Much to the annoyance of Jacko I think, seeing as though he is a much better builder than I am. But since this is set in MY game, I'm gonna use a house that I done, I am also going to decorate it as I want  
This is me, Ina. I'm a painter and have joined the Painter Career. As you can see my 1st painting is complete, I know its nothing to shout about, but hey we all gotta start somewhere. OOh my butt looks good in those jeans.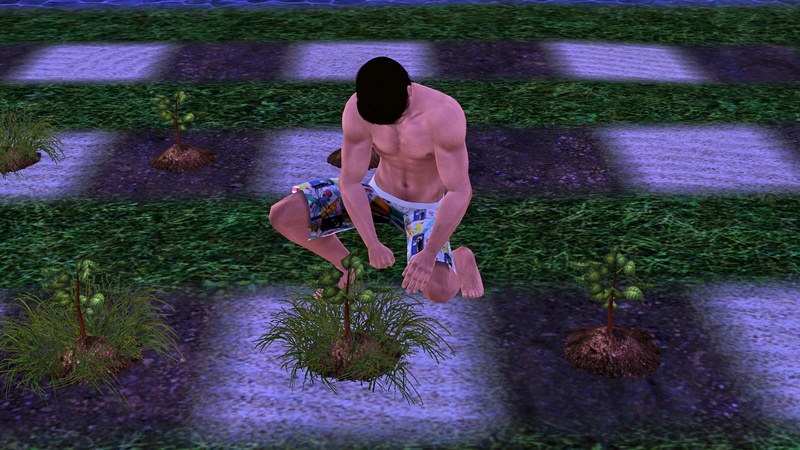 This is Jack or Jacko. He loves his garden and would spend every second of every day there. In fact as you can see he got straight out the pool and started weeding. He has entered the gardener career, I thought that would suit him best. Anyway I didnt want him to go running off each day to work, I wanted him here with me. Especially when the sproggles come along, will need all the help I can get.  
So this is us. We are living in Sunset valley at the moment. I like it, its easy to navigate and suits what we want for now. Am not saying we wont move in the future but for now, yep SV it is.
"Morning hun"
"Morning Jack, err honey you stink, go have a shower please. Once you're done I need to talk to you"
"Do I smell that bad?" (Sniffs own arm pits)
"OMG, see the green cloud?? Well that is a stinky sweaty cloud of garlic infused rotten cabbage. Don't sniff your pits, urrggh go have a shower"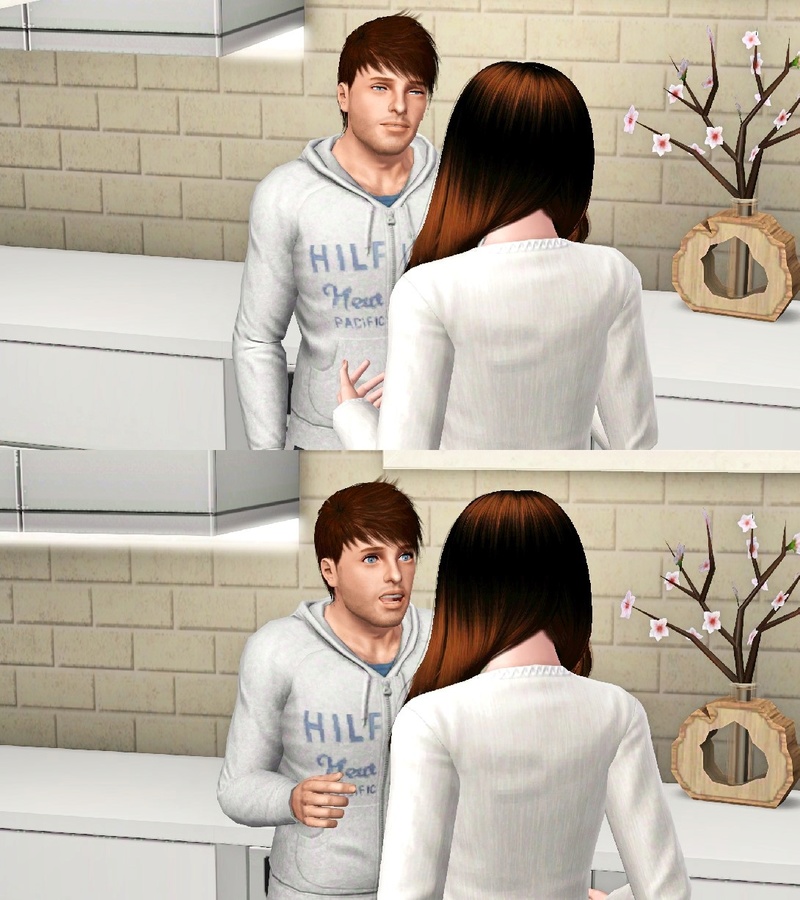 "Right am all showered, do I smell better now?"
"Oooh, yep. You smell yummy."
"Right what do you wanna tell me?"
"Hhhmm what? Sorry was day dreaming...gawd you smell so good"
"Ina, tell me"
"Oh right, yeah.... errr... we are, well I am, no we are...expecting"
"Expecting what? OH!! Expecting, as in Baby?? We're havin a baby?"
"Yes, honey we are"
"Hun, there's no pictures in this book"
"Do you really want to see pics of someone giving birth?"
"Well am gonna be there with you"
"Yeah but at the top end honey, I dont want you to see that end, it might put you off future hanky panky"
"Why would it do that?"
"Well, in this book it says men can be put off sometimes by what they see"
"I can promise you that aint gonna happen here"
"I still want you at the top end please, just in case"
"Well let's just see what happens shall we"
"So I was thinking, about names"
"Jack we are only just into the 1st few months, we have plenty of time to figure out names"
"Ok, are we gonna find out the sex before hand or wait and see"
"I think we should wait and see"
"Ok, so back to names...If I choose 1 boy and 1 girl name and you do the same"
"Jack, we can decide later, when we get closer, on a name"
"Ok, well am just gonna throw this out there...Maverick for a boy and Jessie for a girl"
"JACK!! Fine, we will get a notepad and write those in it. Good lord man, why dont you listen"
"What? What did I do?"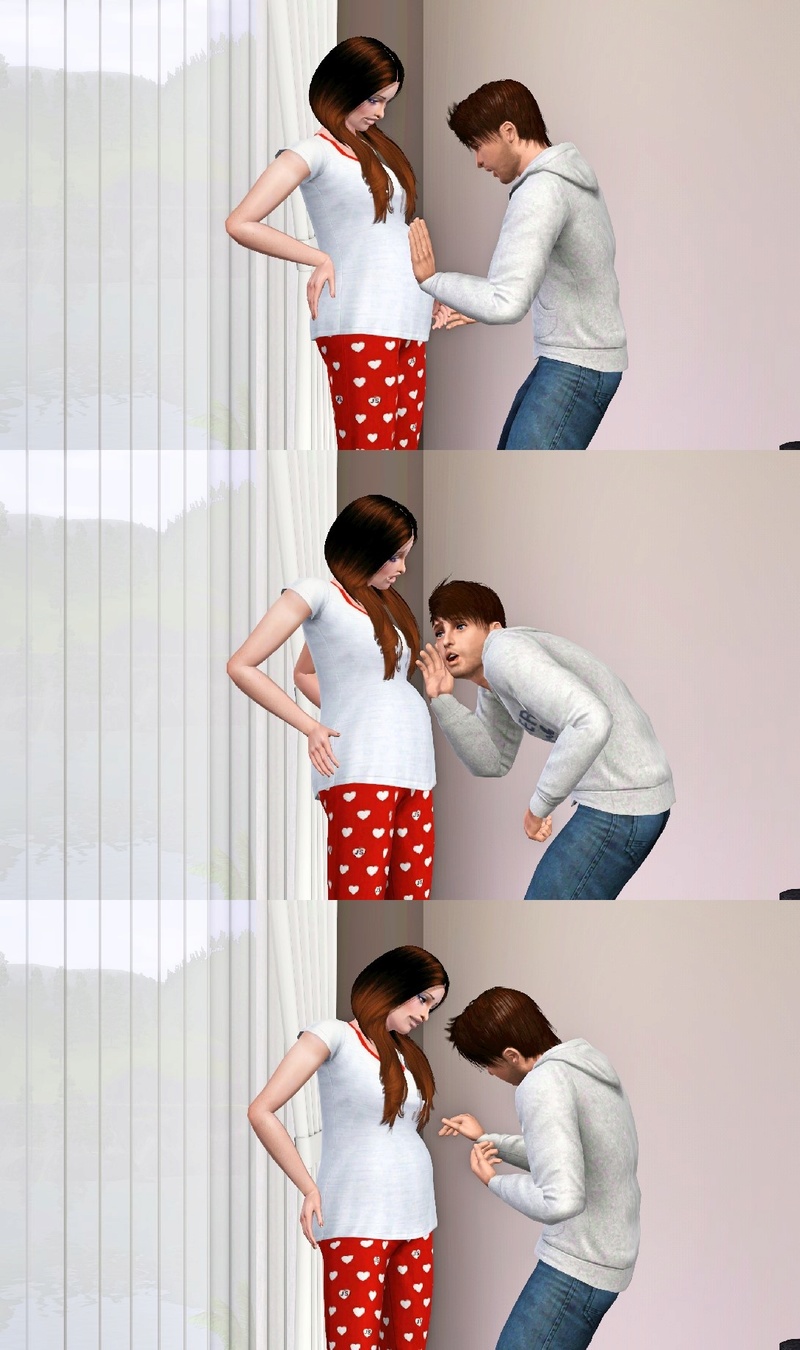 As you can see the bumparoo is expanding.
"Hello little one, am your daddy"
"Aww, he is kicking"
"He...is it a he? How do you know? Did you peek at the scan?"
"Sorry, she is kicking...I dont know what we're having. Nope I did not peek at the scan, it could be he or she or both for all I know"
"Twins!! you never said it could be twins?"
"Calm down Jack. Jeez you're more freaked out than me LOL"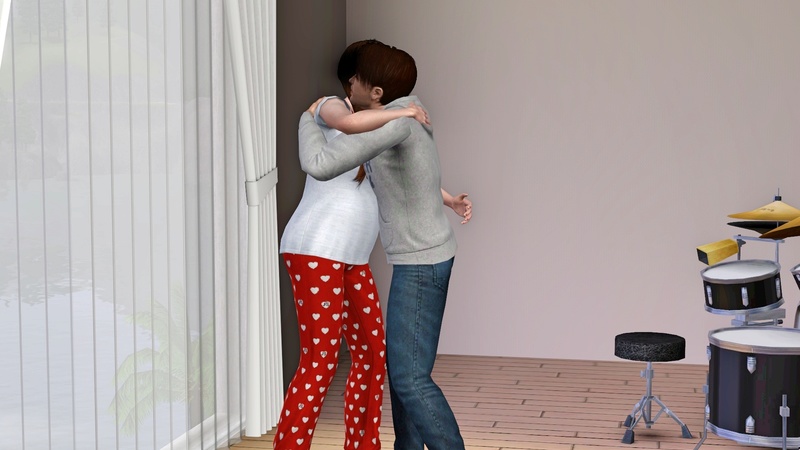 "Alright hun. Look am gonna go do some cleaning. You ok?"
"Yeah am just gonna soak in the tub for a bit then I might start a new sculpture or painting"
"Ok, if you want me I got my phone on me."
"Am ok honey, no signs of little one coming yet, I dont think."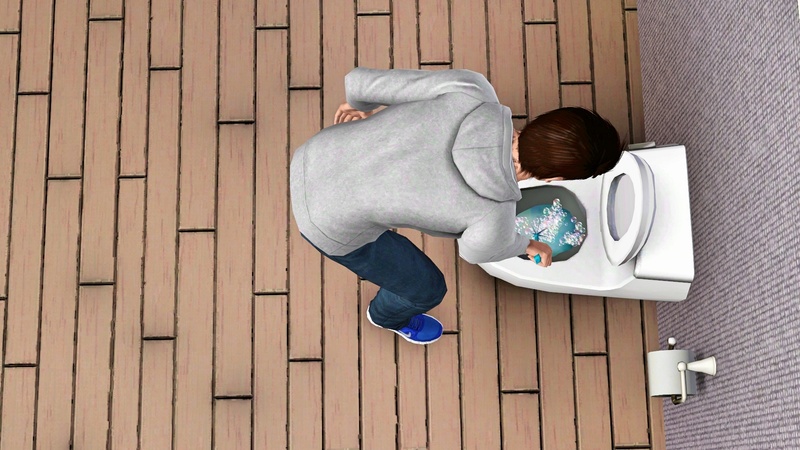 Jack cleaning the loo.
I broke the sink!!!!  
 Jacko to the rescue..  
I started a new sculpture but had to stop, it was hurting my back. The pain just aint going away. Think I'll go for a wee walk.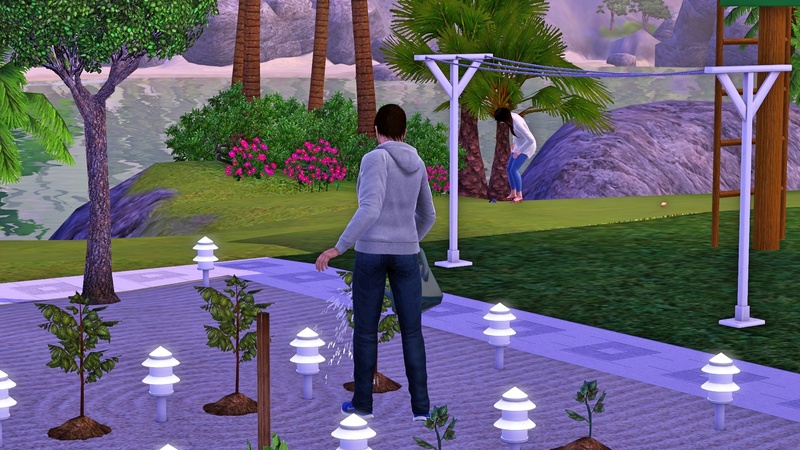 Jack made it to the garden, again. LOL
"Aaaarrrggghhh.....Jack!!!"
"Honey it's only a wee creature, it's not gonna bite you"
"Noooo, Jack...my waters...baby"
"What?? Waters?? Baby....oh right. Ok hun, lets go"
With that they zoomed off to the hospital. I have a question why do the women, who are in labour, always drive?? Would it not make sense for them to be driven by their partners??
Ok, lets come back soon to see what happens with Ina & Jacko next time