One look at this home and you'll say, "But they're just boxes." Noooo. They are so much more than just boxes. Take a look for yourself
!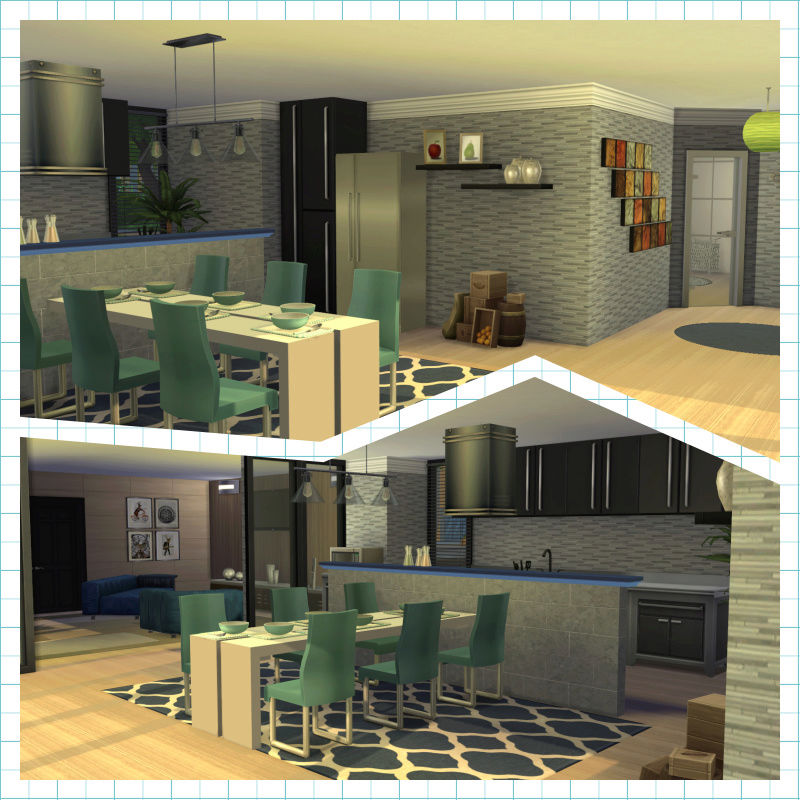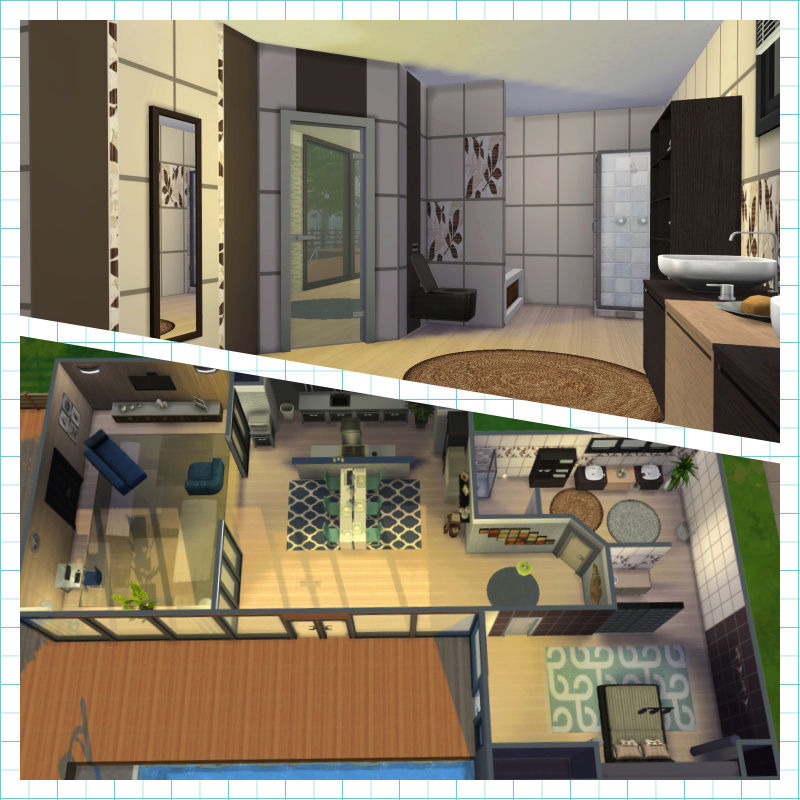 The home shown above is loaded with CC and base game objects only.
To keep the look of the interior in each room above, download the following cc, install into your mods folder, unzip the file and place the home in your tray file. But of course you already knew that. Okay so here we go onto our CC shopping spree!
Exterior: Door
Peacemaker
Graciously Georgian (click on downloads, scroll to bottom after Peacy's TOU, click on Build)
Interior:
All flooring:
Leosims
Living room:
Table/plant:
Jomsims
(table is part of the Madaez Furniture, plant is part of the Alcado bedroom set)
Couch:
Buffsumm
Curtains:
Devilicious Pixel Shrine
(chevron curtain set)
Picture:
SimCredible!
(Solatium painting)
Kitchen:
Table/Stove exhaust fan/spices/jars/placemats:
SIMcredible! Designs
(part of the Liscia kitchen set)
Fridge:
SIMcredible! Designs
(part of the Cayenne kitchen set)
Blinds:
Simcredible!
(Finding Grace blinds)
Lighting:
BuffSumm
Painting (hall)
Severinka Sims
Wallpaper:
Peacemaker
(click on Downloads, scroll down past TOU, click download cat., build - Look at me)
Wallpaper (on half wall):
PralineSims
Wall Art (hall):
Leosims
Bedroom:
Wallpaper:
Danuta720
Bed:
Leosims
Rug:
Leosims
Books:
Nynaeve Design
Pillows (on bed)/head board/dresser:
Jomsims
(Pillows:part of the Alcado bedroom set, head board & dresser part of the Taxaium)
Vases:
SIMcredible! Designs
(part of the Bechamel kitchen set)
Flowers (on head board):
Lulu265
Light (on wall in closet):
ANBS
(part of the Morten hallway)
Block glass partition:
Simenapule
(part of the Alhena bathroom)
Bathroom:
Counter/sinks/wall shelving unit:
ANBS
(Tokyo Bathroom)
Bathtub/shower:
Simcredible!
Plant:
Jomsims
(part of the Madeaz bedroom set)
Blinds:
Dot
Misc decor:
Leosims
(laundry basket)               
ANBS
(decor)
Rugs:
Jomsims
(part of the Alcado bedroom set)
**Note:
           This home has been tested by me and my daughter Emily's simself.
            When sim sleeps in bed, due to the additional pillows she/he will disappear, therefore you may want to remove them during your regular game play. Same with the
            place mats on the table in the kitchen.
            Before placing lot, please be advised to put in the cheat "bb.moveobjects on" without quotations or some things may end up not being where they should be.
            Please do not share and claim as your own. If you modify this home and wish to share your remodeled version please be kind to link back to my original build on
            here. Thanks! xx