Here is what you will need to begin making your very own pictures/wall art or recolored objects for The Sims 4.
S4S (Alice)
Gimp
Pictures from wherever
After getting both S4S (Alice) and Gimp downloaded/installed, launch S4S.
On the first screen you will see the following: My Projects, Create 3D Mesh, Create Recolor, Object Override (before doing any Overrides I would search for information or tut's on this. I haven't done any overrides. Creating a 3D Mesh will require another program such as Blender but I'm not positive on that.) and Creator name.
Once you have filled in your creator name, selected from the menu and which of the previous options mentioned, click on Save.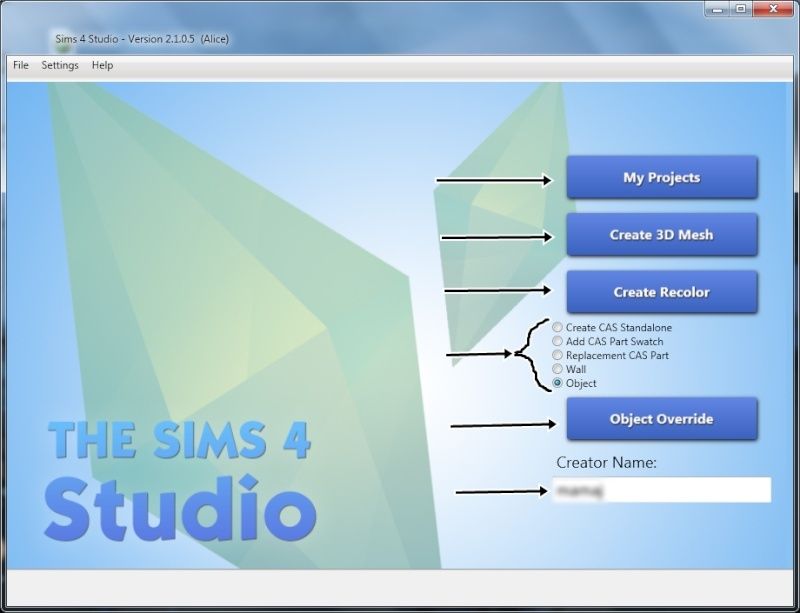 Next you will give your .package a name **Remember this is the package you will be putting in game** Click on Save when done.
The next screen that comes up will be of most of the objects on game. You may see some X's, that's normal. Choose the object you wish to recolor. For this I'm going to use the picture of the perennials. Click Next.
On the following screen you will see swatches, two tabs - Catalog and Texture. In the Catalog tab you will need to rename your project (this will be seen in the buy/build mode in game) and a description. You want to change that to whatever you wish to say. And you can change the price also.
In the Texture tab, you will see some more swatches that correspond with the top swatches, Export/Import of texture and Export/Import of custom thumbnail.  In the top swatches you can also remove any you don't wish to have. So for example this picture can be made in 7 different frame colors. I only need 3 so I will eliminate the colors I don't want to have. Then I will Export the Texture 3 times, one for each picture.
Do not click Save yet
.
Once you have done that, Minimize S4S. DO NOT EXIT OUT, you will be coming back.
Open Gimp. In the File menu select Open and choose your .dds export file you just did with S4S. Make sure Mipmaps is checked in the pop up box.  Once open go back to the File menu and select Open as layers and select the picture you wish to replace Maxis' with. It will be larger and cover up the first file. You will need to resize it, so take the resize tool and start shrinking that picture down. Once you feel you have shrunk it down enough click scale on the resize box. Using the Move tool, move your newly shrunk picture over the original, resize if necessary.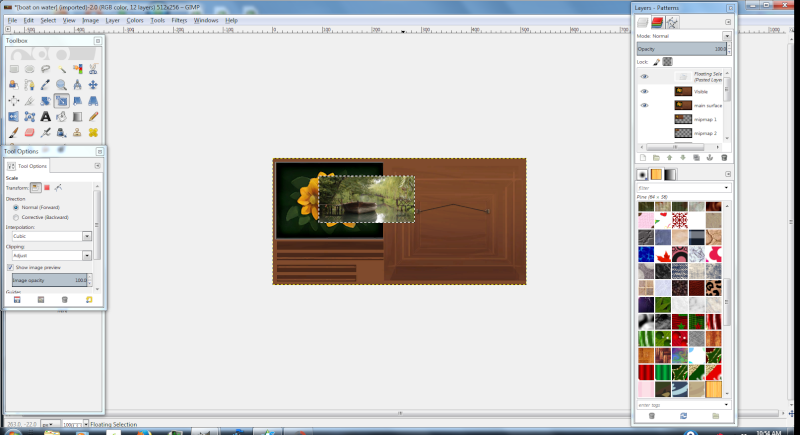 Do any final photo editing (enhancing, color etc). Then make sure all the "eyes" are open on all the mipmaps, selecting the top one right click on it and select from the menu "Merge all visible layers" then select Merge in the pop up box. Now you are ready to export and replace. Go to File menu, select Export As and select the .dds file you are replacing. When prompted to overwrite click Okay. In the pop up box put in BC3|DXT5 and Generate Mipmaps.  Then minimize Gimp, just in case you need to do any fixing.
Bring S4S back up, in the Textures tab select Import under the texture, select your replaced .dds and you have now made your recolor or remake of a Maxis picture. Repeat the step for as many of the pictures you wish to replace. Once you are all done replacing, if you don't wish to have custom thumbnails, click Save and your .package has been replaced with your new pictures. Open up your documents file > Electronic Arts > The Sims 4 > Mods and copy and paste your .package in. Open your game and check it out!
Here are the ones I completed for this tut. (To make the pictures/objects larger/smaller, just use this cheat in game: shift + [ (smaller) or ] (larger))
To do wall decals, you will need all of the above, except when searching for images, they
have to be transparent
.
Making them transparent on your own will not work. I've tired it.
Then follow the steps in S4S. In Gimp follow the above steps to bring up your project. Then do the following: Layers> Transparency> Alpha to Select. Then click on the area you wish to make transparent using the magic wand. Once you are done with that, click on the mipmaps and delete each one except for the very top one.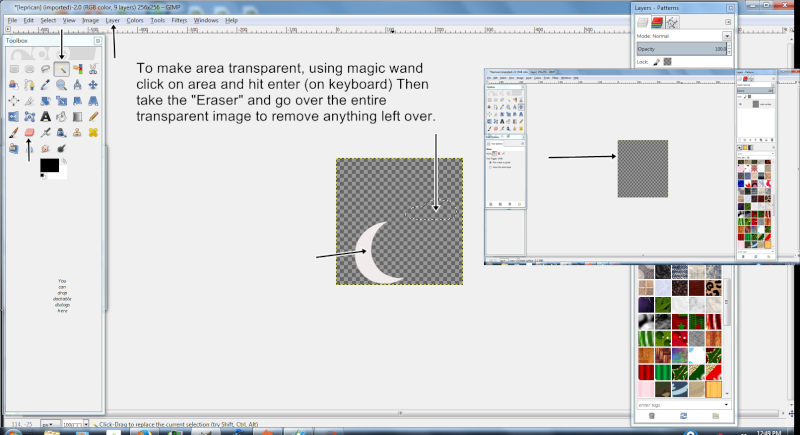 Now you are ready to bring your transparent picture in. Go to File > Open as layers. Your images should now appear on top of the transparent area. If you need to resize, resize your image. Do any editing you want, go to the mipmaps and merge them just like before. Now you are ready to export. Go to File > Export As pick your .dds to replace, enter in BC3|DXT5 and Generate Mipmaps click okay and done. But keep Gimp open just in case of any fixing needed.
Bring up S4S and Import your image, repeat steps if desired and click save. Test out in game.
These are the images I did, and will be released closer to St. Patrick's Day