Hi everyone
I have often been asked how do I make lipgloss, well here is how I do it. Beware there is a LOT of pics here.
I learned how to do this by using this tutorial
By Shyne
I do not take full credit for this tutorial as part of it is how shyne says to do it. I have tried to contact her to ask if I can use part of her own tutorial, but alas I think she may have left the sims 3 community.
I use
Gimp
and
TSR Workshop
but if you use Photoshop the principles are the same. You will also need Gimp DDS Plug In, which you can download from the link above. Follow the install instructions and once you have those things in place, got yourself comfy we can begin. Oh one more thing, you might find it easier to prepare a new folder on your desktop or safe place and call it something like "My Lipgloss" or something more interesting LOL You will need it soon. You will also need a lip image. I google Lipgloss Images and I usually pick a nice glossy full lip. Try it with different shapes and sizes until you get one you prefer. Or you could draw on the lip effect if you are creative and artistic.
Step 1
Open up TSR Workshop and click on Create New Project
Step 2
Click on the eye image as shown below (click next)
Step 3
In the next window, click on Human > Adult > Female or Male (whichever you are making it for) > Everyday (click next)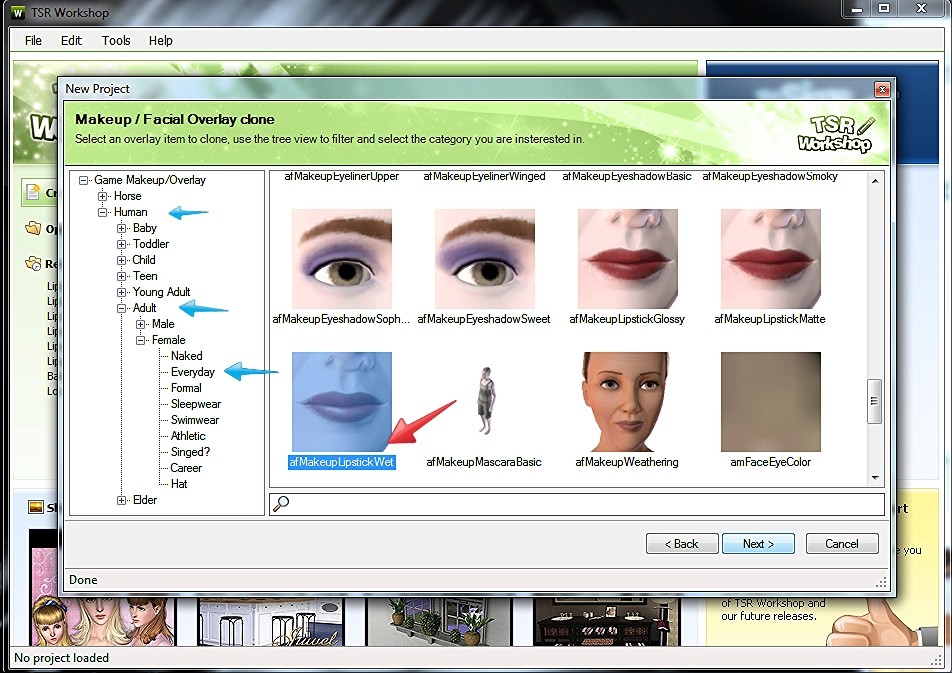 Step 4
This is where you get to name your lipgloss (click next)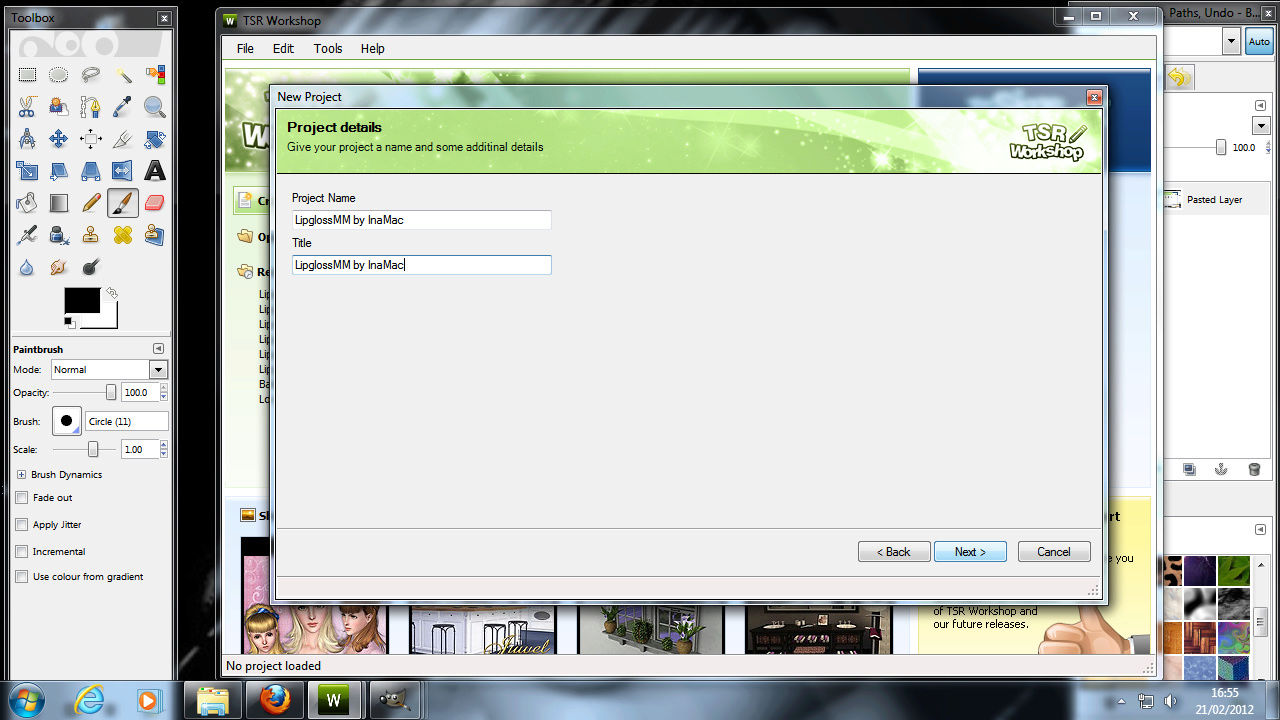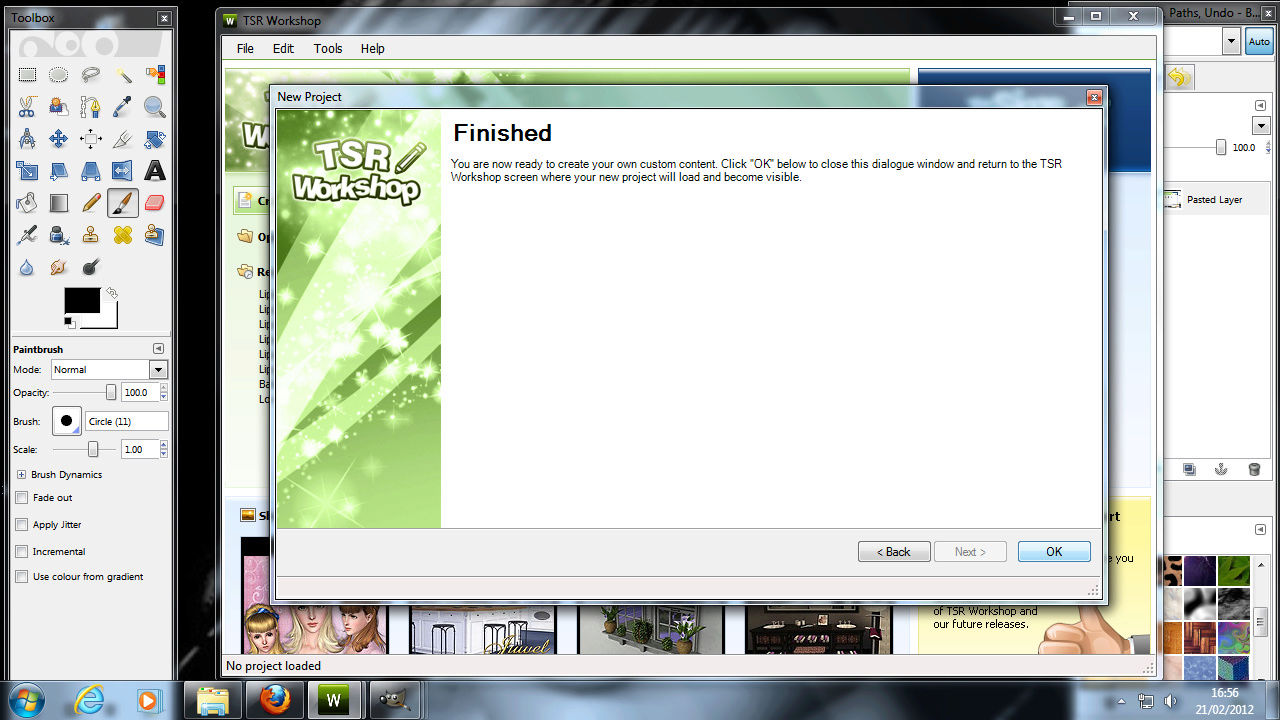 Step 5
On this page you can change the age, so if you want your lipgloss to be available for teen -> elder tick each box relating to that age ( Do Not use child here, it will deform the mouth)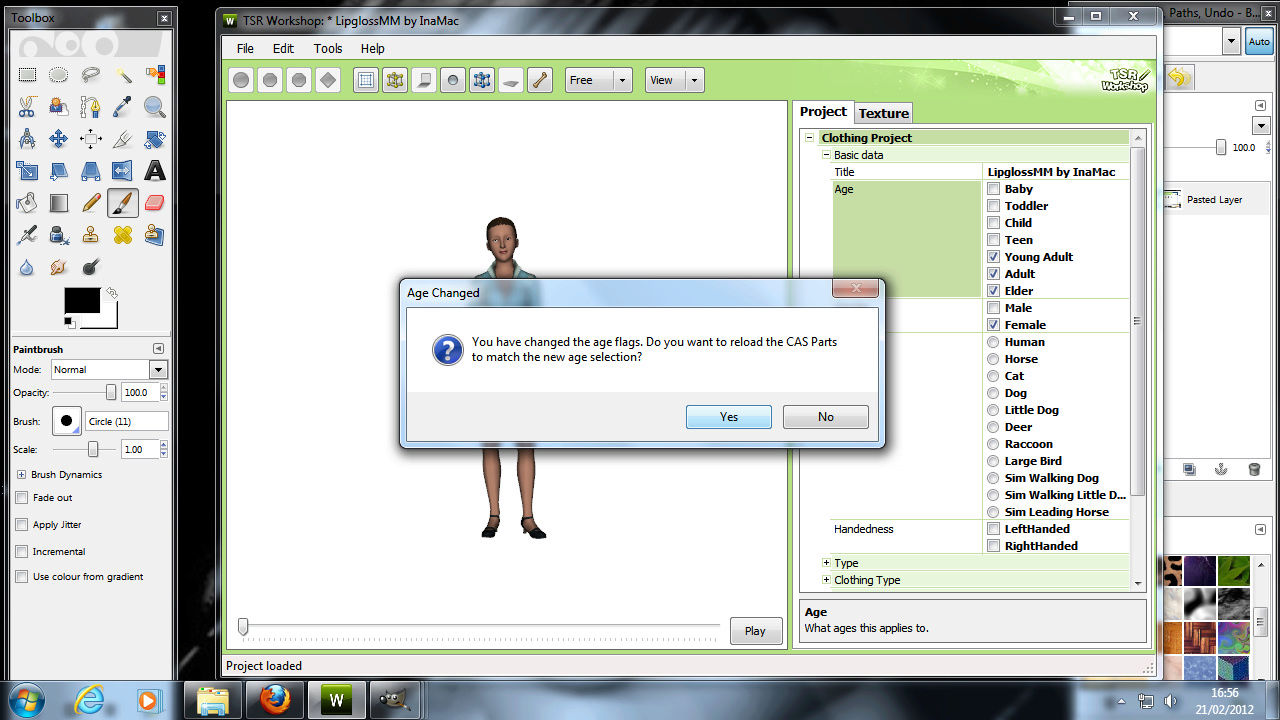 Step 6
Now click on the textures tab. Once in there click on Overlay > Edit > Export. You will do this for Specular and Mask also. Save them in your folder you made earlier. I change the names before saving to make it easier to identify when I need them.
Step 7
Once all 3 have been exported and saved, minimise TSR Workshop. We will come back to that later.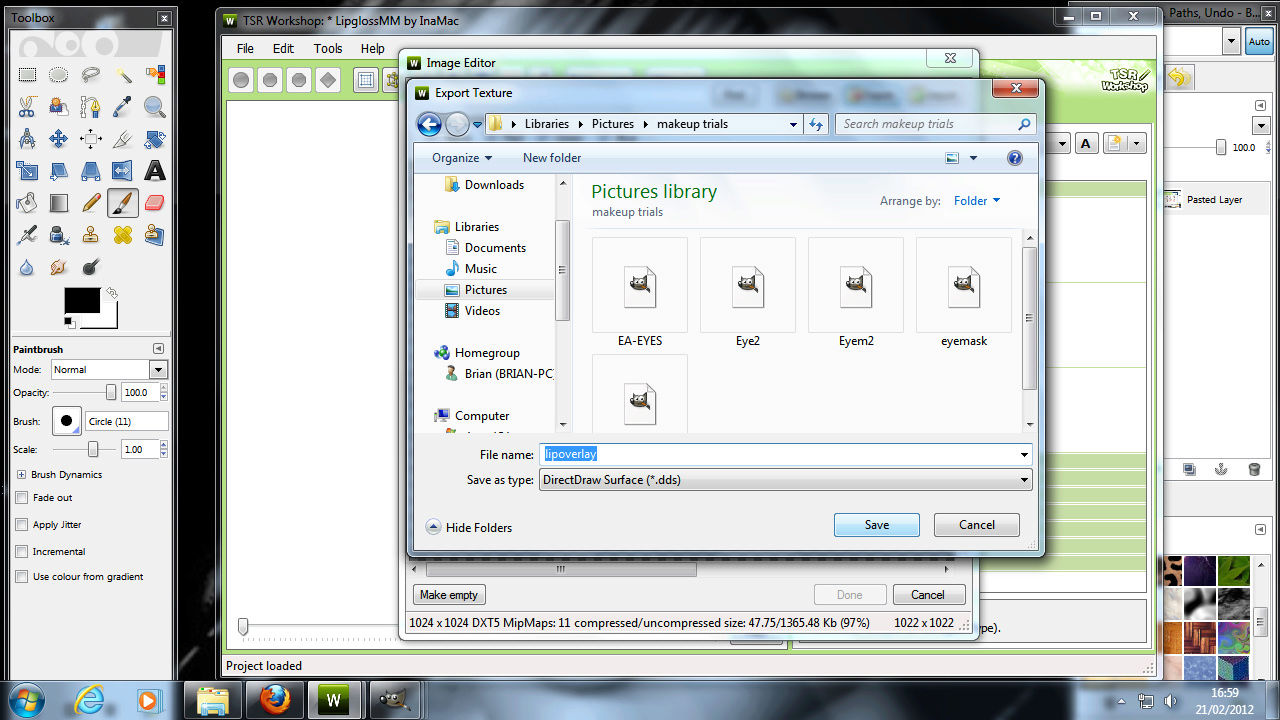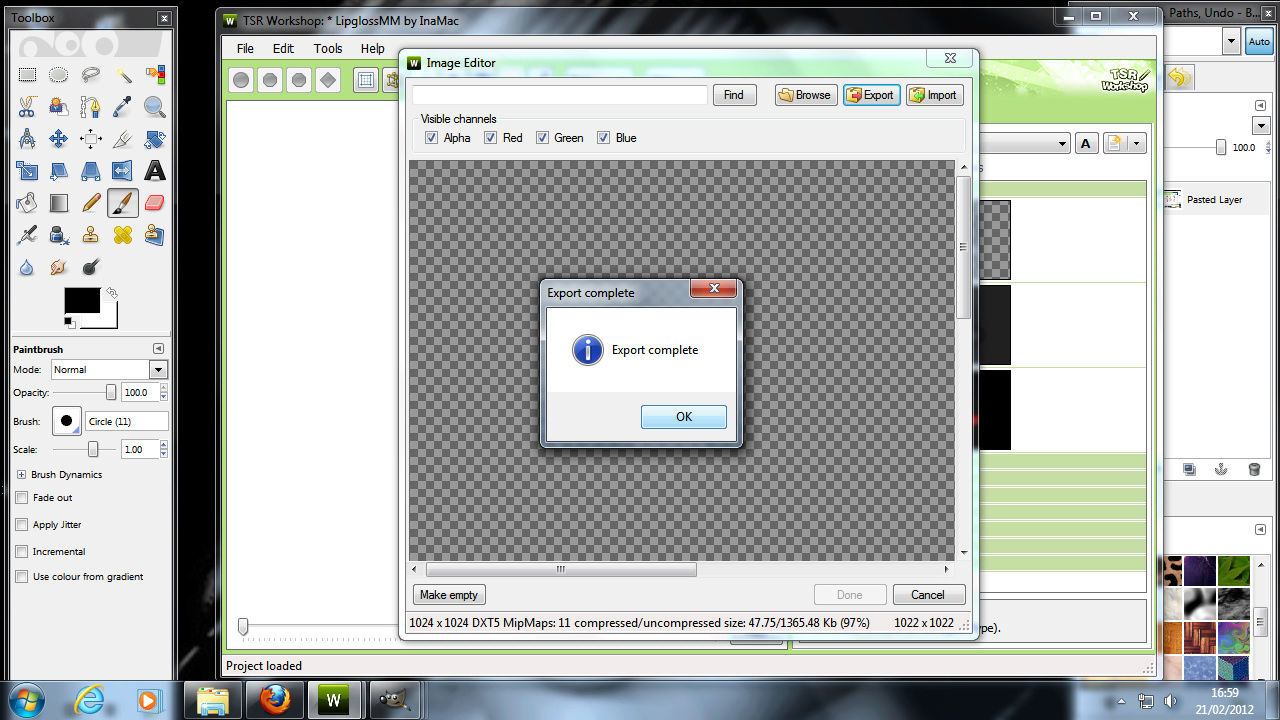 Step 8
Go to your folder and open up the overlay DDS file you saved earlier, with gimp.
Step 9
Now go to file > open as layers, find the lip image you want to use and open. Once you have your new layer, you are going to have to resize it. I aim for 300 width, but sometimes it depends on the lip image you are using, play around until you feel its the size you need. Once you are happy with the size you need to desaturate the colour. Go to the colors tab > desaturate, I use the average scale, but again its up to you which one you choose.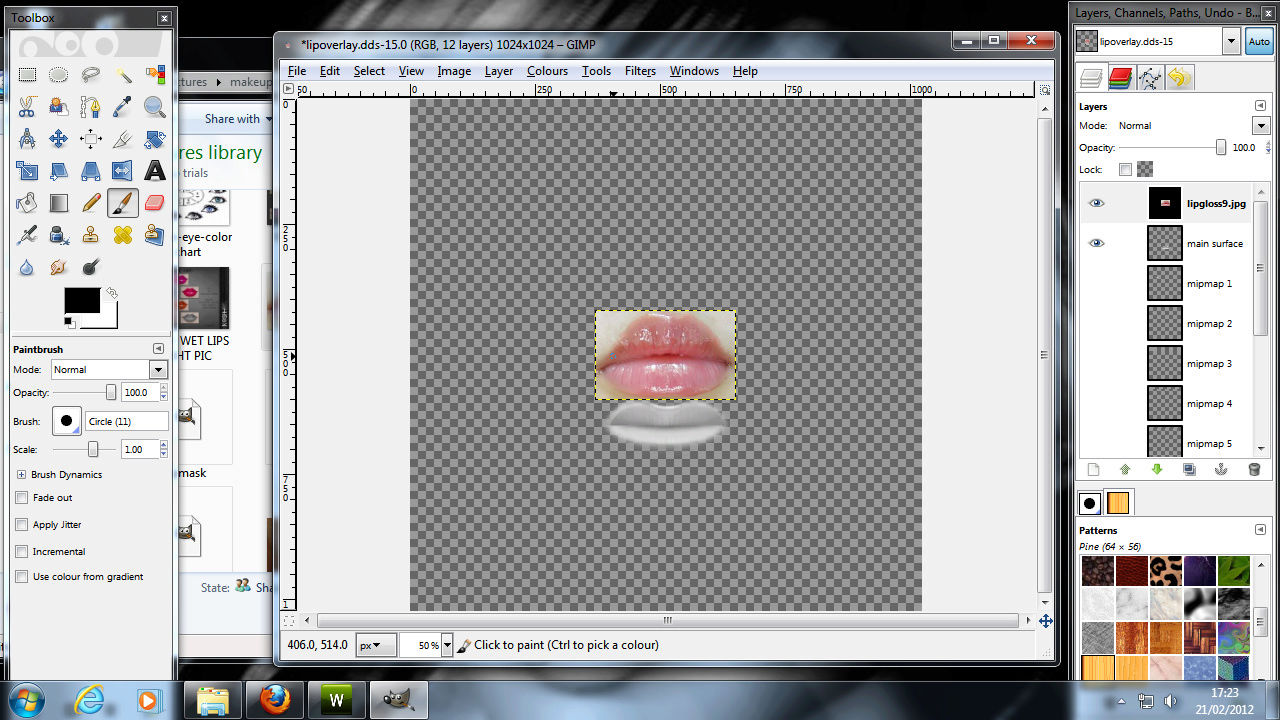 Step 10
Now for this part you need to go to the layers window click on the drop down menu > click on value. Once you have done this click on the lock box. Play around with the position of your lip image until you are happy with how it looks. Click new from visible or anchor layer, they both work the same. You can now delete all the previous layers below your new lip image.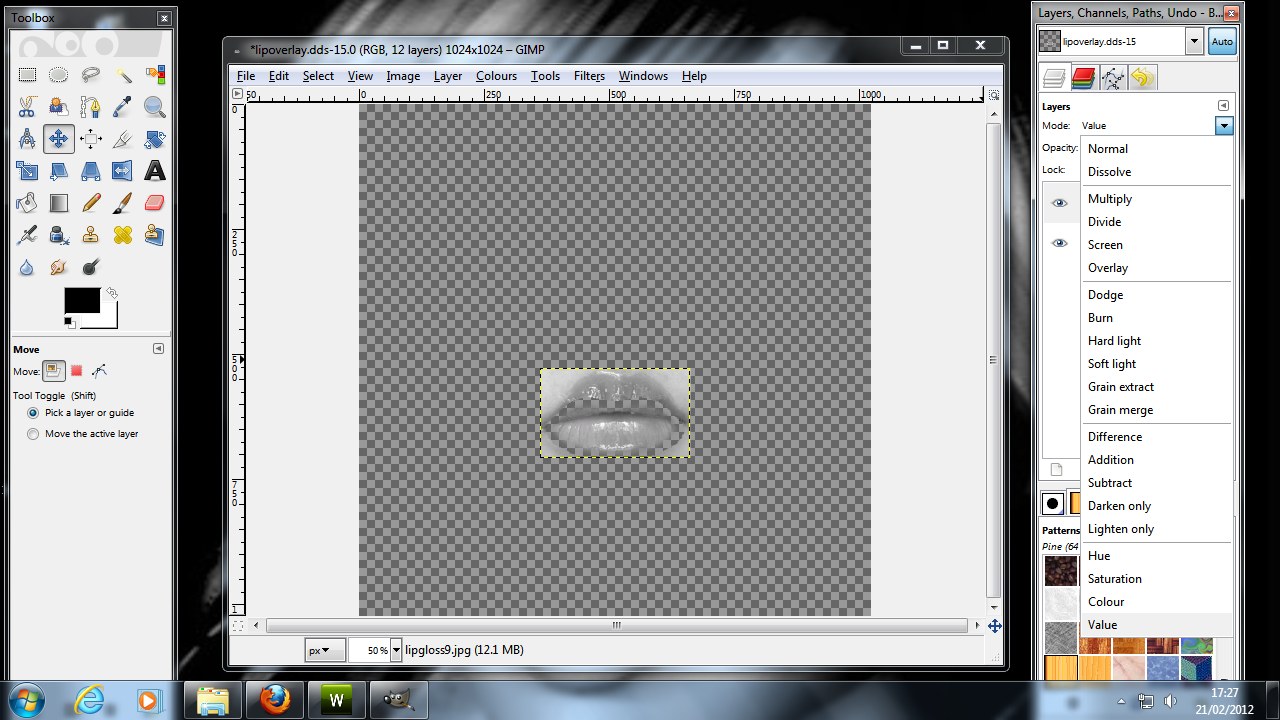 Step 11
Now we can make our new overlay. First go to the colors tab and click on levels. Use the arrow highlighted in the pic below and move it to the left until your lips are a lot lighter/brighter. Once you are happy click ok. Voila you have just made your overlay, go to file and save as new overlay or whatever you want to call it, you can save this as a dds file or a png file ( I use dds) Do NOT close it we still need to use it.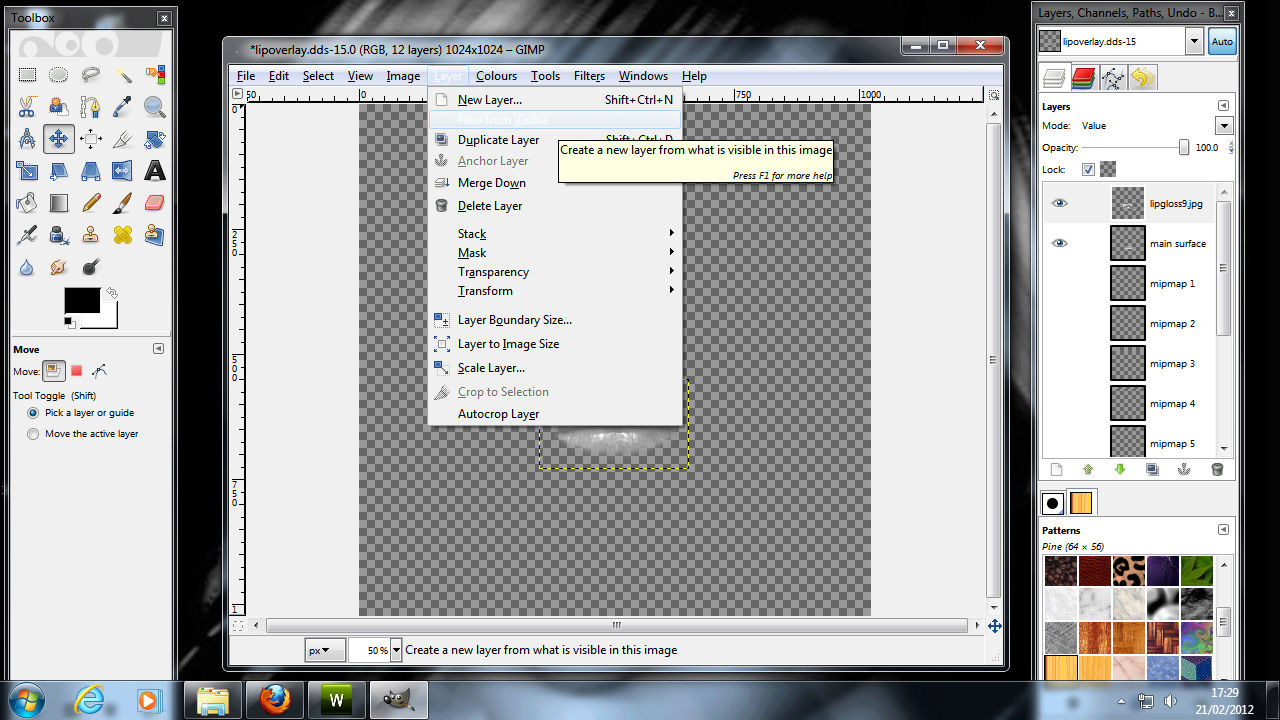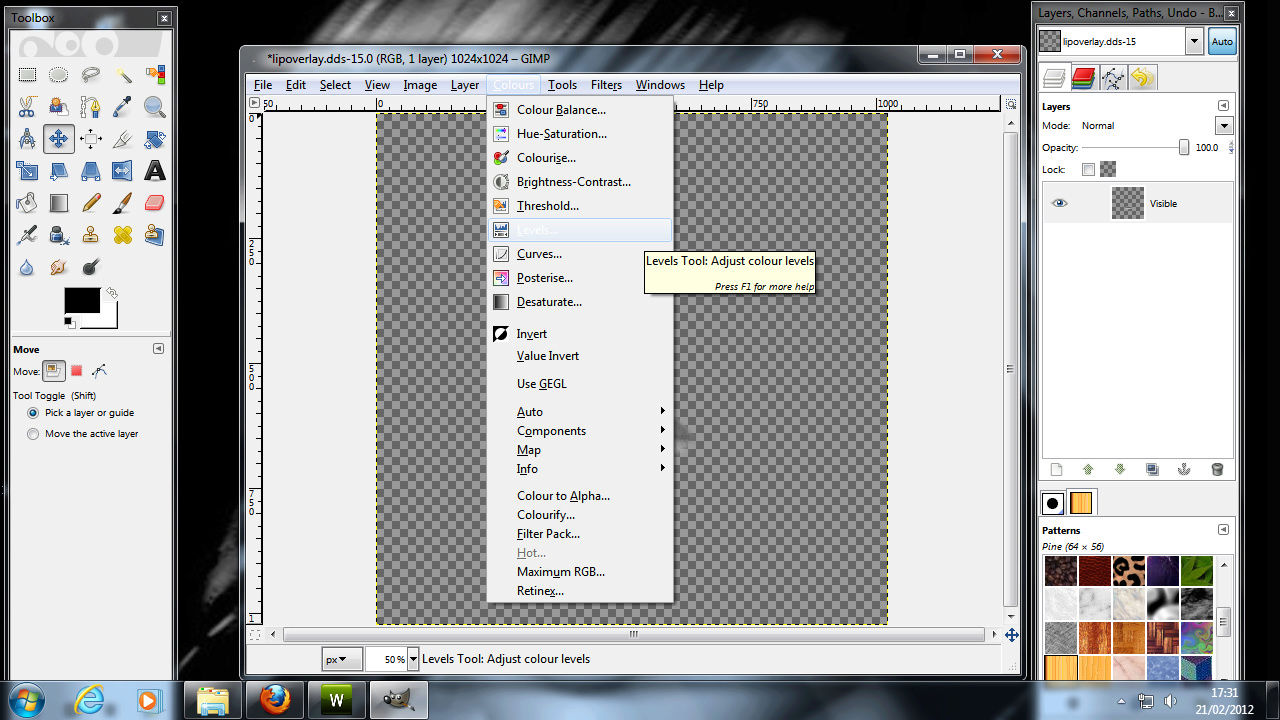 Step 12
Go back to your new overlay image and undo the last action. Take it back before you done the levels to make it brighter. Now go to your saved specular and open with gimp. Once it is open click on ctrl A then delete. Now bucket fill with black. Go back to your overlay image click on ctrl A and ctrl C, go to your new black background and click ctrl V. Once you have done that go to your layers window and click on hard light. This will turn your lip image almost black. This is now your new specular. Save image.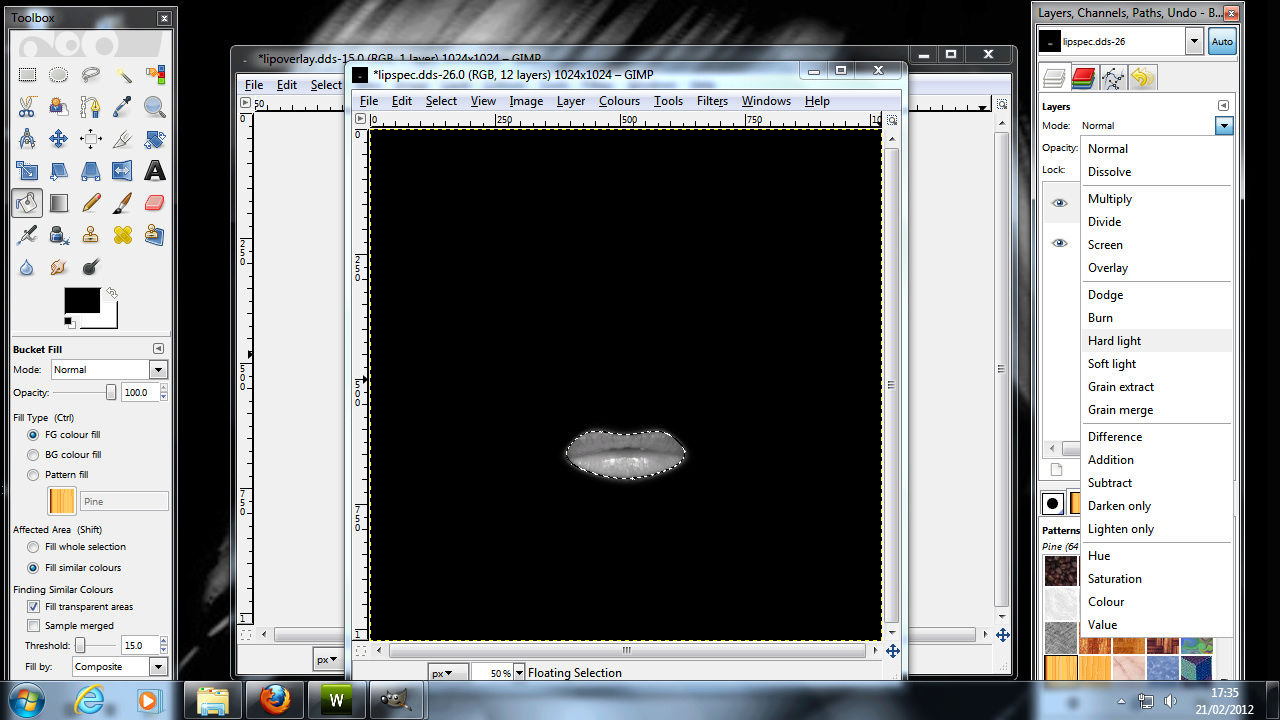 Step 13
Now again go back to your overlay image (the one before you brightened it) go to the colors tab and again click on levels, this time we are going to darken the lips
Step 14
Once you have them so there is only a little white or shine showing we are almost ready to make the new mask. First go to colors tab > color to alpha you will see a white bar we need to change that to black. Once you have done that click OK. Dont worry if you are only left with a very transparent image, this is what you want. Now go back to the colors tab and click on colourify, pick the turquoise shade, click ok and now your transparent image is again visible.
Step 15
Now go to your folder and open the mask image. Once opened click ctrl A and delete, bucket fill with a bright red, now go to your turquoise lips and click ctrl A and ctrl C, then go to your new red background and click ctrl V, click anchor layer and there you go you have a new mask. Save image into your folder from before.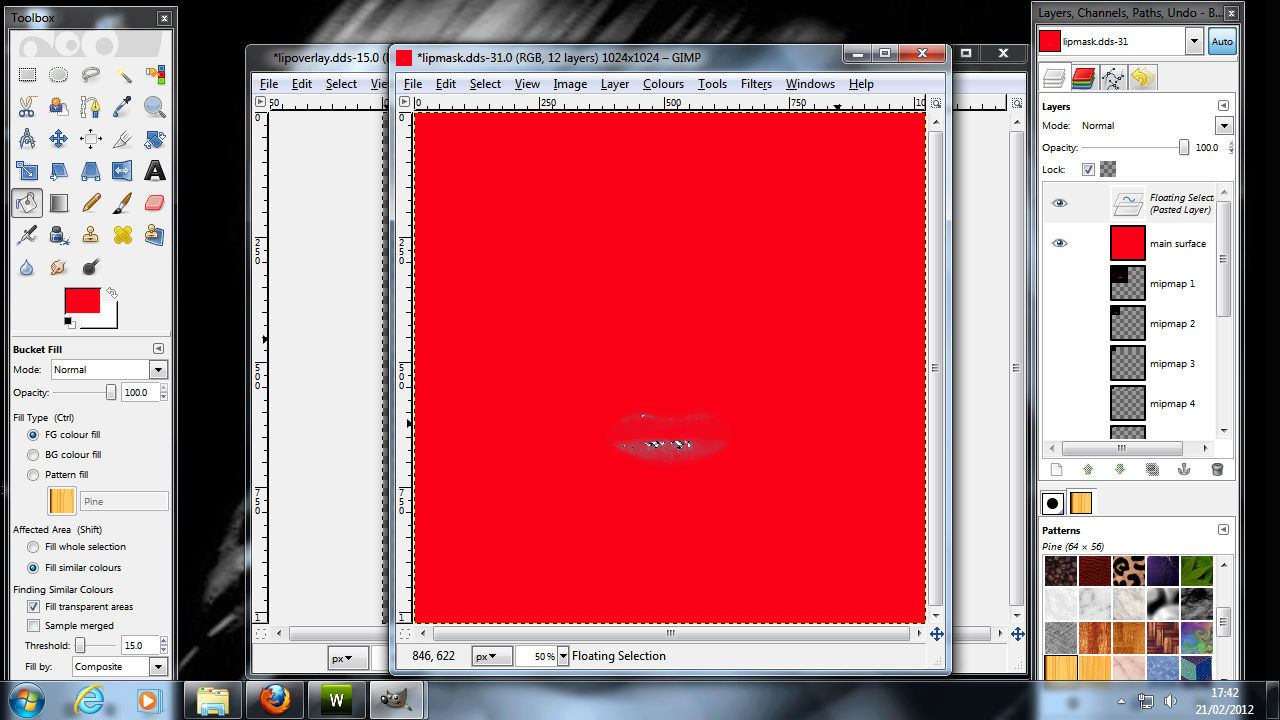 Step 16
Almost done. Now we need to go back to TSR Workshop. Remeber we exported the images, well now its time to IMPORT our new ones. Go to each one in turn and import your new overlay, specular and mask. Once you have done that. Go to file > export to sims 3 pack and you can now test in game.
To add thumbnails for cas and launcher go
HERE
If you have any more questions feel free to ask me, if I can help I will