my friend was very very gracious to make me a photography studio. it can be found over on her tumblr.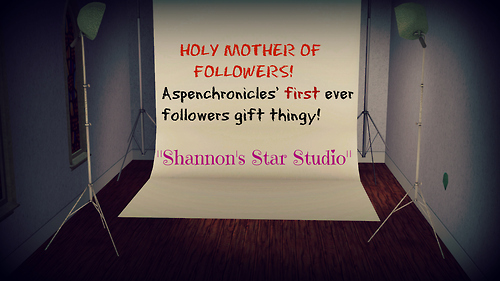 DETAILS:
So this building is a residential lot sized 30x40 if I remember correctly! It's designed to be a series of sets in the one lot for all your picture taking funsie needs. Included above are some picture examples of some of the sets, but there are a total of 13 sets you can explore in full when you download the place!
All CC is simpack and should transfer with the lot. I claim NO CREDIT for the CC, all the glory belongs to their amazing, wonderful creators!
A lot of stuff is from various expansions and stuff packs. I tried to stick with the main ones people tend to own but a few things here and there may not show up in your game if you don't have that particular pack.
ROOMS/SETS:
Vintage kitchen
Moroccan Living
Manly Garage
Creepy Cemetary
Under the sea!
Bridal white party
The Gentleman's library
The Sensual bedroom
Garden tea party (For your little fairy lasses!)
Mr Science! (For your budding young Mr Hyde's!)
1960's Sunlounge
Masculine Gym
Mistro Music Room
In addition, there is a bathroom and dressing room as well as a generous lobby and reception should you wish to use the lot to represent a business!
KNOWN ISSUES!
The roof is horrible. Part of one set sticks out a little but there wasn't much I could do to make the damn thing work. Pretty sure you won't be looking at the roof though so it's all good.
You will need to add more lighting. I've kept it super basic so you can determine what you want lit and how. For some fun effects, I'd also suggest playing around with light colours too!
You'll need to place a pose player in the building if you intend to use it.
Again, if you don't have the pack items are from, they'll be replaced with something else. Get creative and redesign things if you need to!
without further ado, the link!
http://aspenchronicles.tumblr.com/post/60355313019/holy-buffalo-wings-batman-its-my-first-ever