scanned by InaMac69
Here is one of my newest creations. Just a little background on this household. Joel and Sincere Romano both love the outdoors and a friendly. Joel is a flirty hopeless romantic natural cook, and Sincere just plain loves to tone up her athletic skills by working out in her gym (in both houses) and she loves to swim. She also doesn't mind the hot summer days in Isla Paradiso.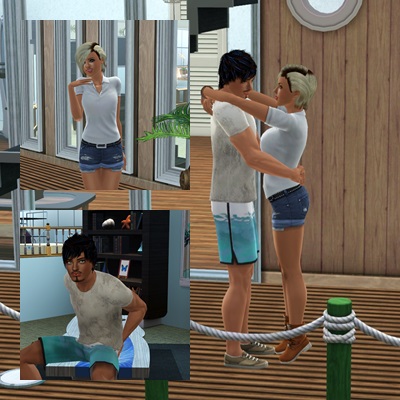 Their first home is their houseboat. It stands 3 stories high. On the main level you will find the living room, kitchen/laundry area and dining area that gives a beautiful view of the ocean. The second floor houses Sincere's  gym and her and Joel's bedroom which also offers a his and her bathroom. After a strenuous work out, Sincere loves to get a rub down on the massage table from Joel, who she says has "magic in his hands". The top floor is also the deck, with a pavilion, hot tub and Joel's second favorite appliance, the grill. You will also find Joel steering their boat from way up here too.
Limited CC on this boat and with Joel and Sincere.
I will have their second home available tomorrow.
Sincere:
Hair- Final Song by Sims2Fanbg
http://www.thesimsresource.com/downloads/details/category/sims3-hair-hairstyles-female/title/final-song-%2Afree%2A/id/1139886/
Skin- Pralinesims- 8.0
http://pralinesims.blogspot.de/2012/07/skin-80-for-male-and-female-sims.html
Eye's, Liner and brows all by Pralinesims
http://www.thesimsresource.com/artists/Pralinesims/downloads/details/category/sims3-hair-facial/title/%2Afree%2A-allure-eyebrows/id/1168214/,
http://www.thesimsresource.com/artists/Pralinesims/downloads/details/category/sims3-makeup-eyeliner/title/emo-eyeliner-with-lashes/id/1103774/,
the contacts I have in my game from PS are called Midnight Crystal, which I can't find her download for. These are the closest- Mystic Jewel
http://www.thesimsresource.com/downloads/details/category/sims3-makeup-costumemakeup-contactlenses/title/mystic-jewel-eyes/id/1093111/
Eye shadow- Sclub Privee Smokey eyeshadow No. 1
http://sclub.mktm.co.uk/en/cc/beauty/eyeshadow/
Lip gloss- InaMac69
http://www.thesimsresource.com/members/InaMac692/downloads/details/category/sims3-makeup-lipstick/title/lipgloss-nn-by-inamac69/id/1133918/
(or you can download it from on here in her section)
Blush- Pralinesims Healthy Glow
http://www.thesimsresource.com/artists/Pralinesims/downloads/details/category/sims3-makeup-blush/title/healthy-glow-luminizer/id/1188183/
Shoes- everyday/formal- Theia boots and Hestia boots by Anubis
http://anubis360.blogspot.com/2012/08/hestia-shoes-with-bow-for-teen-to-adult.html,
http://anubis360.blogspot.com/2012/03/theia-boots-for-teen-to-adult.html
Joel:
Skin- Pralinesims- skin 8.0 (same as Sincere)
Shoes- ShojoAngel ShoesSet2
https://www.thesimsresource.com/artists/Shojoangel/downloads/details/category/sims3-sets-clothing-male/title/shoesset2-adult-teen/id/1163116/
Houseboat:
Blinds on bdrm windows (inside)
http://www.thesimsresource.com/artists/DOT
( I wasn't sure which one I used, but it's either Accord 3Fit 1, 3x1 or City Full Contempt 14 Mesh)
Sheers- LuLu265
http://www.thesimsresource.com/downloads/details/category/sims3-objects-furnishing-decor-curtainsblinds/title/classic-3-tile-sheer-curtain/id/1084098/,
http://www.thesimsresource.com/downloads/details/category/sims3-objects-furnishing-decor-curtainsblinds/title/classic-2-tile-sheer-curtain/id/1084097/,
http://www.thesimsresource.com/downloads/details/category/sims3-objects-furnishing-decor-curtainsblinds/title/classic-1-tile-sheer-curtain/id/1084096/
****I have all EP/SP's, included may be items from TS3 store****
Download available through Mediafire in .Sims3Pack
. ( NOTE: This household will show up as having corrupt, as it contains items from another DBPF file. It is not corrupt, I have scanned all of my .sim3pack contents and .package contents on a regular basis.)
mediafire.com download/ptbc27k251nt85c/Romano.Sims3Pack