Scanned by ArtsyAmy
Hi everyone! So I made a household of 4 super natural beings. Michael Wolfbang, Esmeralda Vaughn, Shandin Rukstman, and Marnie Snipe.
Just a run down on them:
Michae
l is a human by day, werewolf by Full Moon (or when ever he feels the urge to transform), he is an Aries who loves custom music, the color spice brown and his favorite food is a nice plump and tasty mushroom omelette. He is brave, a daredevil, loves the outdoors, a bit of a mean spirited creature (by habit of course) and is a night owl. His life time wish is to be the Leader of the Pack.  
Esmeralda
is a witch. Although she is trying really hard to be a fun loving good witch, living in this house could have an impact on this Virgo. She loves the color red, dances to custom music and her favorite meal is chili con carne. A natural cook, she is also a handy person, genius (great for mixing up those potions and spells), artistic and eco-friendly (no waste going on while she's in the house!). Her life time dream is to be a Mystic Healer.
Shandin
is a Genie born under the Aries sign. His hope is change the perception of Genie's Sim-world wide from them being rumored as being mean. He wants to be a Master of Mysticism. His fav's are: custom music, sushi and color red. Shandin is artistic, a bit of a brooder, friendly, good nature and lucky.
Marnie
. What can you say about Marnie, other than she loved jelly beans and a bit way too much. In fact she jelly beaned her way to death. Now cursed to roam the sim world for eternity, this jelly bean floater wants to grow the perfect garden. Other than her deathly love for those colored sugar snacks, this Sagittarius loves the color orange, music by songwriters and tri-tip tofo steak. She is a gatherer, a bit of a flirt, schmoozer, family oriented and a natural cook.  
There is limited CC with this family, you will however need the base game, Master Suite, Generations, patch 1.38, Diesel, FastLane, Showtime and Supernatural packs. CC is from the following creators: NataliS (male necklace), Lorandiasims3 (lipstick/bracelet), InaMac69 (lipstick/hair color and eyeshadow), Rosesims2 (earrings), DHY Elegance eyebrows, Pralinesims skin shader 6.0, chin sliders (I can't find the creator I used), contacts by Heiret, Hair by XMSims.  The following is from the store: wet suit, Le cirque Noveau-The Catcher, The Acrobat; African inspiration- On safri shorts, braided bun. Garland (dress), T-shirts that were free with registration of SuperNatural Limited Edition. ( I believe that is all I used that were store items)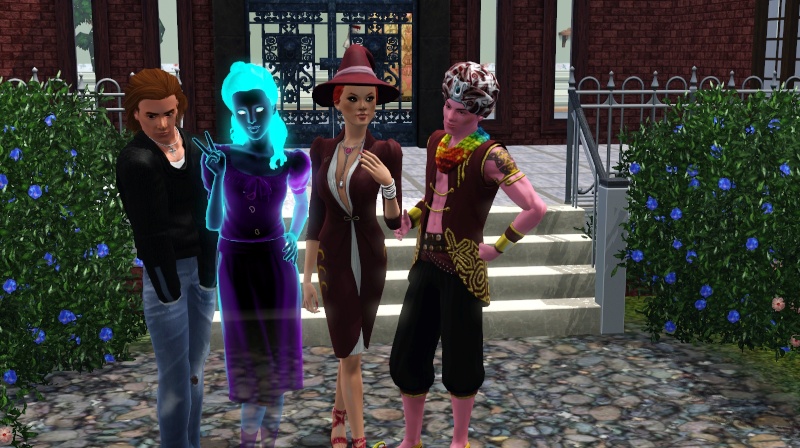 Download from Mediafire in .sims3pack
mediafire.com ?mhc2na5qnx8515c