What I've learned from this is not to take on a request when my brain tells me I've got time before my exams start haha!
Life will always conspire against me to make sure I'm sick or having computer issues.
Never mind, he's done now! Sorry for keeping you waiting so long Eden!
Definitely one of the hardest celebrity sims I've ever tried to do. I think he comes second in my list of hard people to simmify haha!
There are parts of his face that are impossible to recreate no matter how many custom sliders.
He's not perfect, but I did my best, and he turned out ok!
Not many pictures with this one, I still haven't got my cooling plate and my laptop was burning up so I had to be quick!
Anything that's not CC should be base game, but I've got a feeling something from an expansion creeped in there haha!
Nothing to worry about though, anything that needs to be replaced if you don't have the expansion is nothing that will make a difference to the sim.


No CC Version: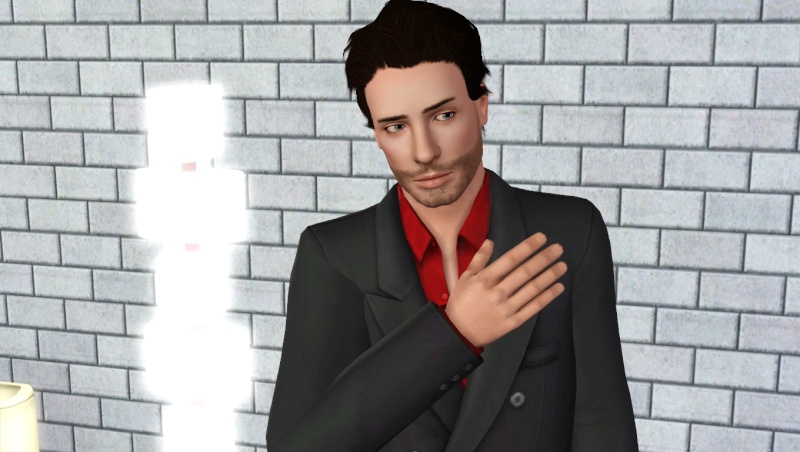 Download Sims3pack
Download .sim
Download No CC Version Sims3pack
Download No CC Version .sim
Custom Content:
Content marked with asterisks (**) is package file CC, this will not transfer with the sim and needs to be downloaded separately.
I hope I've got them marked up properly haha! - if there's something missing that I've said will transfer, just let me know!
Skin used with the sim will not transfer, so you'll need to download it if you want him to look exactly the same - but it's not needed to have him show up properly in your game.
Skin used was Ephemera's old V1 default, which is not currently available, but Ephemera's new default/non-default skin is pretty much exactly the same, so if you don't have the old default or non-defaults and want the same skin, download the new one
here
and it'll look fine.
**
Eyes
by -Shady-**
**
Eyebrows
and
Eye Bags
by Arisuka**
**
Cheek Pore Blush
by Shyne**
Everyday Top
by Juliana
Jeans
by Darko
Everyday Boots
by Darko
Formalwear
from All About Style (Double Breasted Suit Reshaped)
Custom CAS Sliders:
Sliders not required to have the sim show up properly in game, but you'll need them if you want to edit the SHAPE of his face or body in CAS
aWT's Upper Lip Shape Sliders
aWT's Jaw Line Sliders
Johna's Body Sliders
Facial Sliders by Ahmad