"Good morning Clifton"
"Urghhh mornin"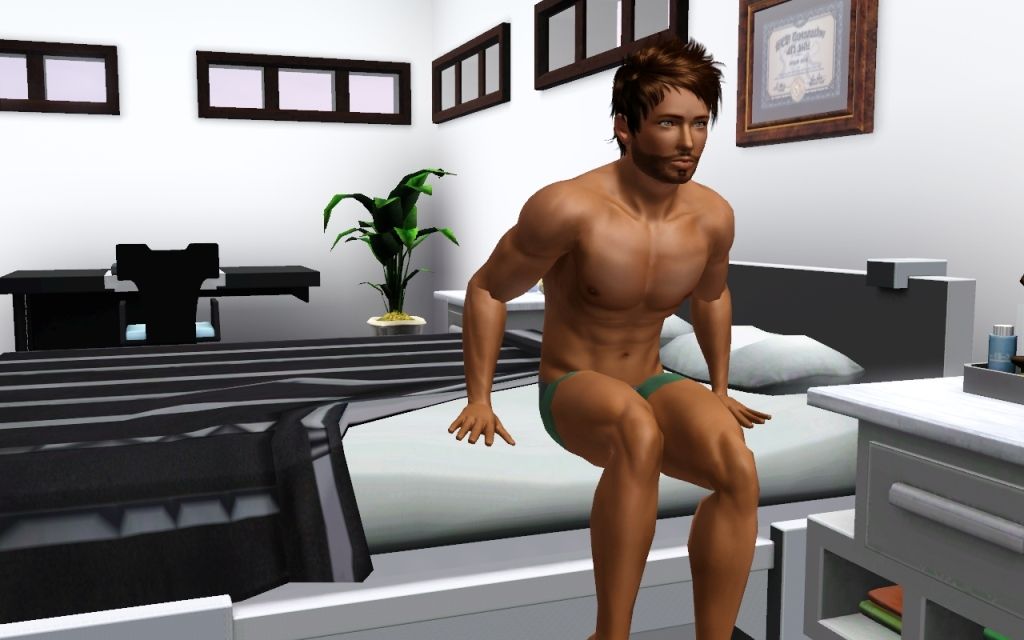 ---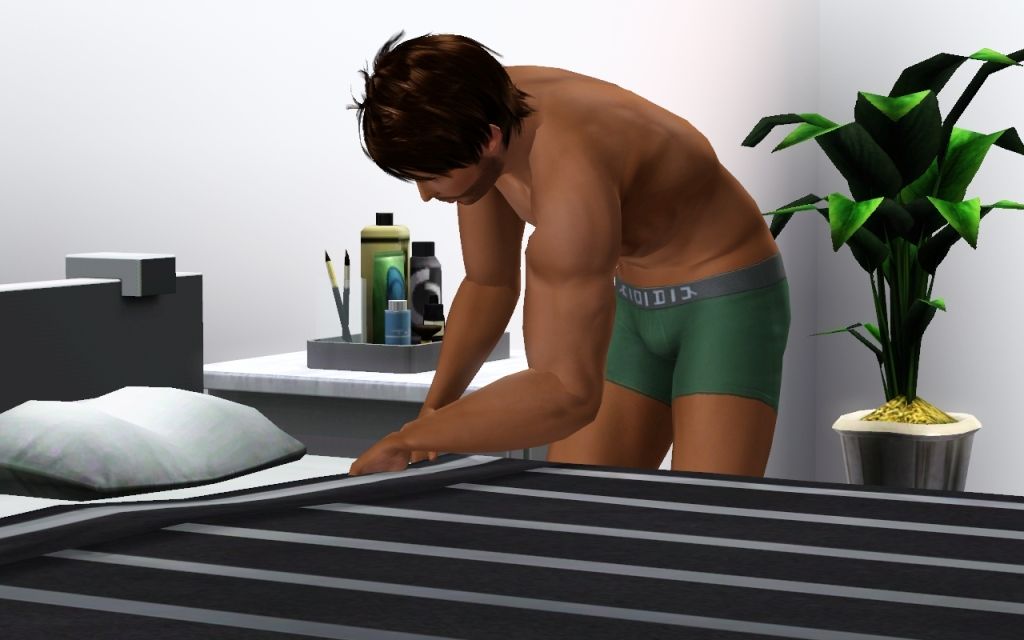 "You actually make the bed, I am impressed"
"You know Mac, I have to make it. No-one else lives here. Maybe I should hire a maid. Do I have enough money for that?"
"You don't need a maid, the house is small enough for you to do it"
"Yeah, but this is womens work"
"WHAAAAAAT"
"It is isn't it, cleaning, womens work"
"OMG - for that you can do ALL the cleaning today, you, you....I am not going to finish that sentence as we have young people on this forum, but mark my words boy, you will regret saying that. To start with you can get dressed."
"I can't"
"Why not?"
"I got no clean clothes, can you buy me some new ones?"
"Haha no, you can do the laundry"
"I don't know how to use the machine"
"Right, lets go, you got some learning to do today. First you gather the clothes from the laundry baskets. You know what those are, the white things in each room"
"Dont be sarcastic"
"Well dont be a lazy, good for nothing, male chauvenistic pig then"
"ooooh grumpy knickers"
"Just do it, then go to the laundry room"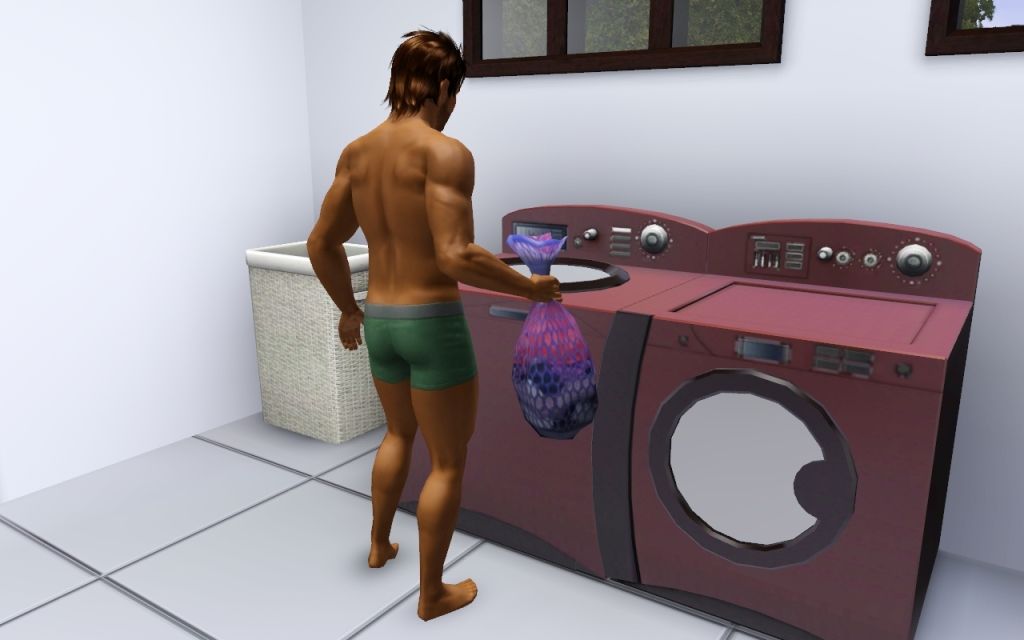 "OK what next?"
"Open the machine, the one on the left. Put the clothes in and then the detergent. Close the lid and turn it on"
"How long does it take?"
"Not long"
"In that case, lets dance"
"What?"
"Dance with me Mac, while we wait, come on lighten up"
"You're an idiot"
"I maybe an idiot but you luuurrrrv me"
"No I don't"
"Yes you do, come on smile for me baby"
"Don't call me baby, I don't feel like smiling. I am still mad at you."
"Something beeped"
"The machine is done, now take out the wet clothes and place them in the dryer"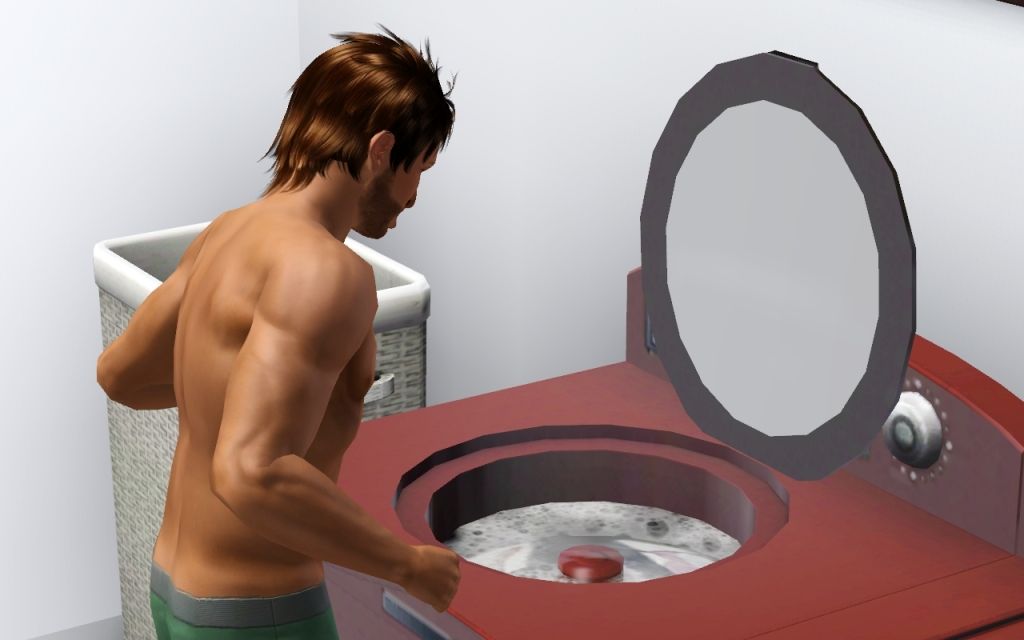 ---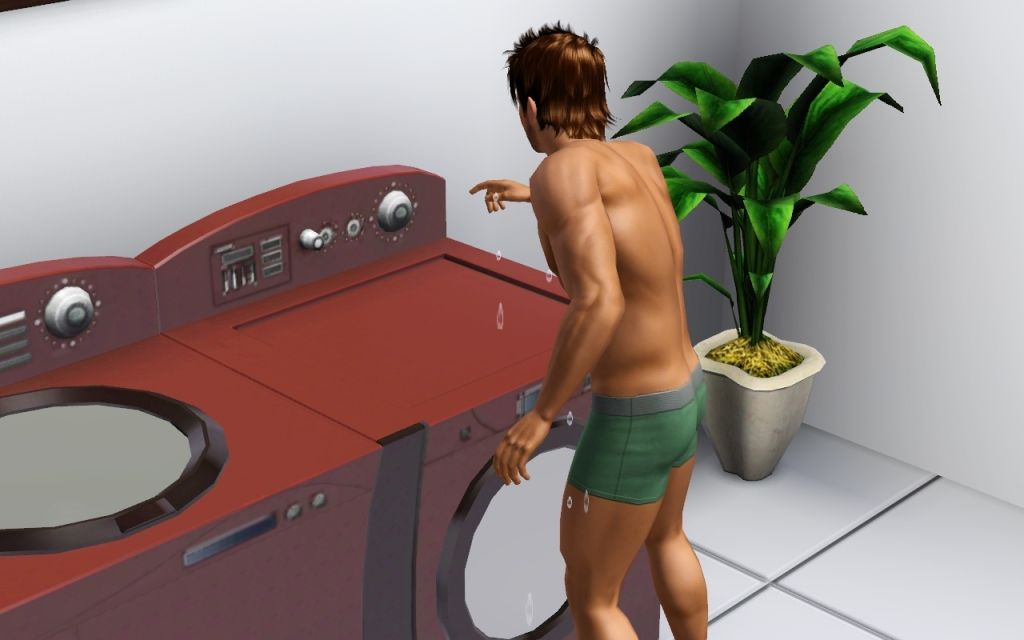 "Good, you turned it on too"
"Now back to more dancing"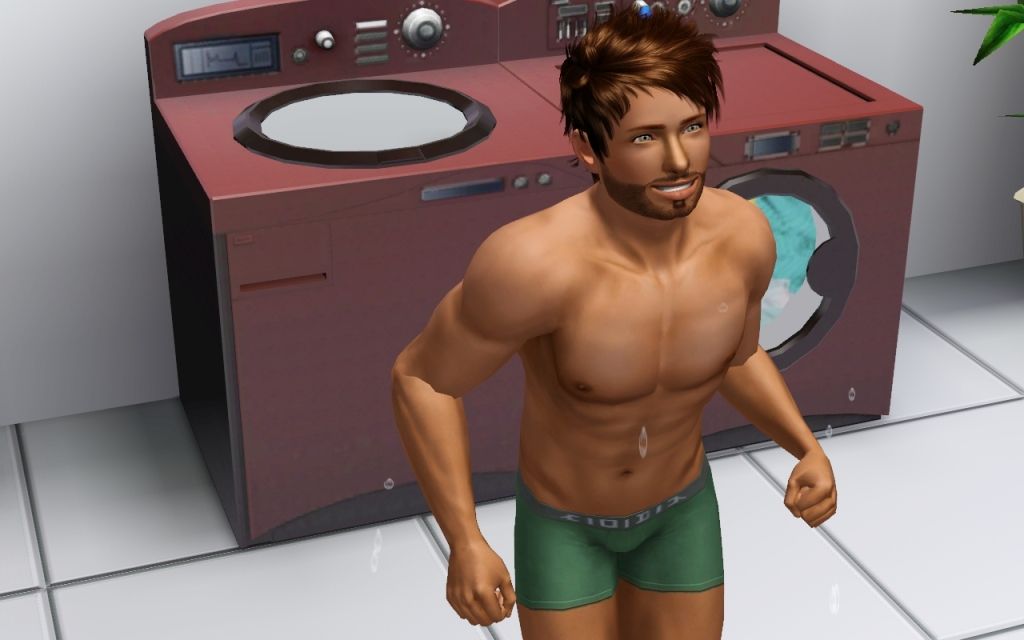 "Its done, go get your clean clothes and get dressed"
"You're no fun"
"Mmmmm lemony fresh, want to smell?"
"No thankyou, get dressed"
"Ok ok keep your shirt on"
"You hungry? Want some breakfast?Or is it lunch?"
"I'm starving where are you taking me? And its brunch"
"Whatever, nowhere, you're doing it"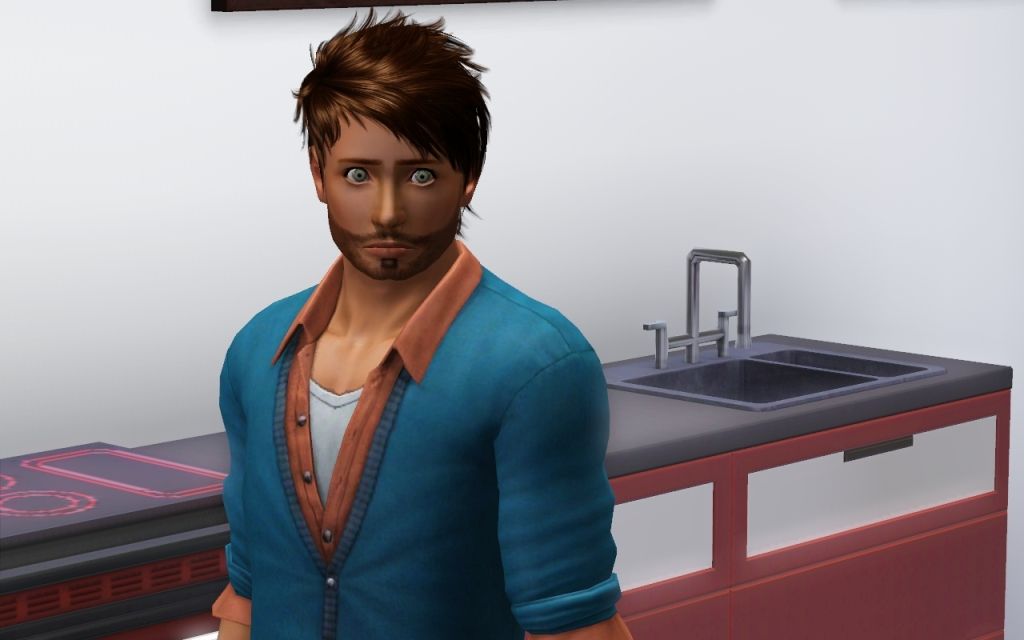 "Dont look at me like that"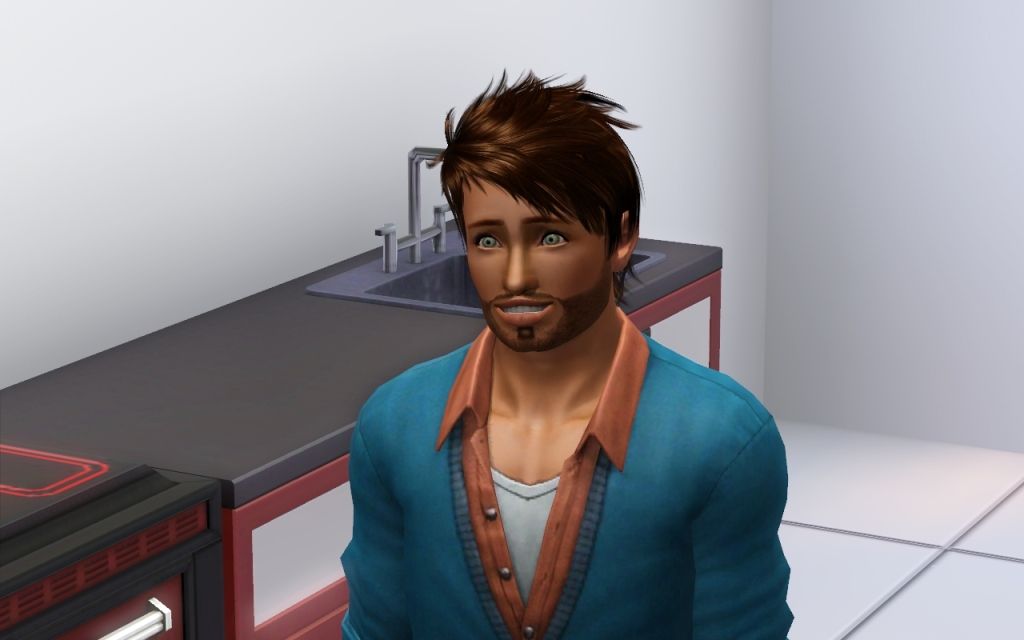 "Or that, go to the fridge and do some food, its easy, the fridge gives out the exact things you need"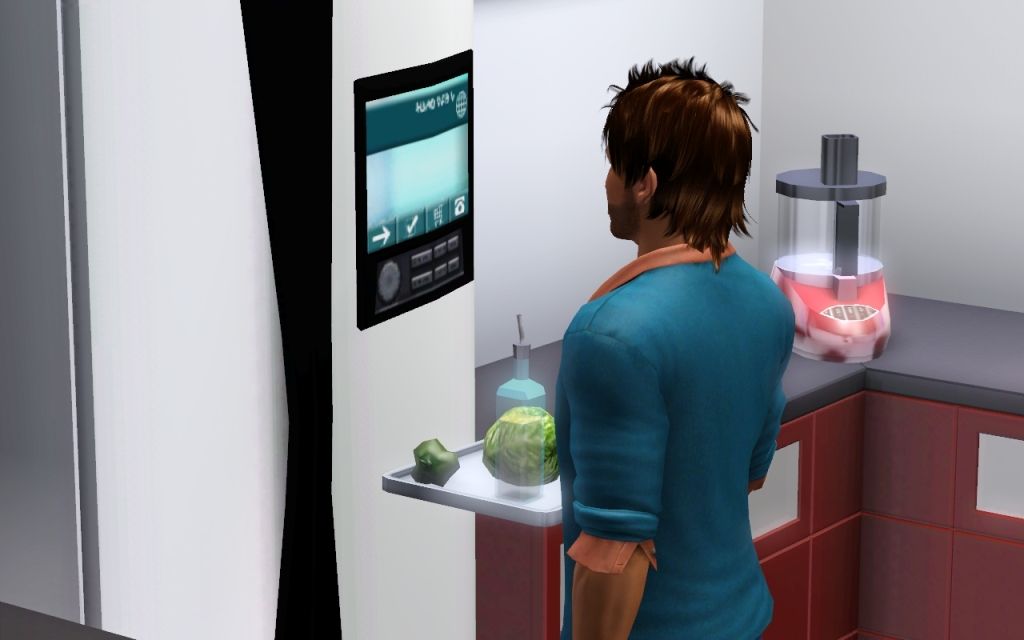 "Salad, I'm having salad"
"Thats simple to do"
"What if I burn it?"
"Oh for goodness skae, LOL, you can't burn salad. You have it cold, no cooking involved"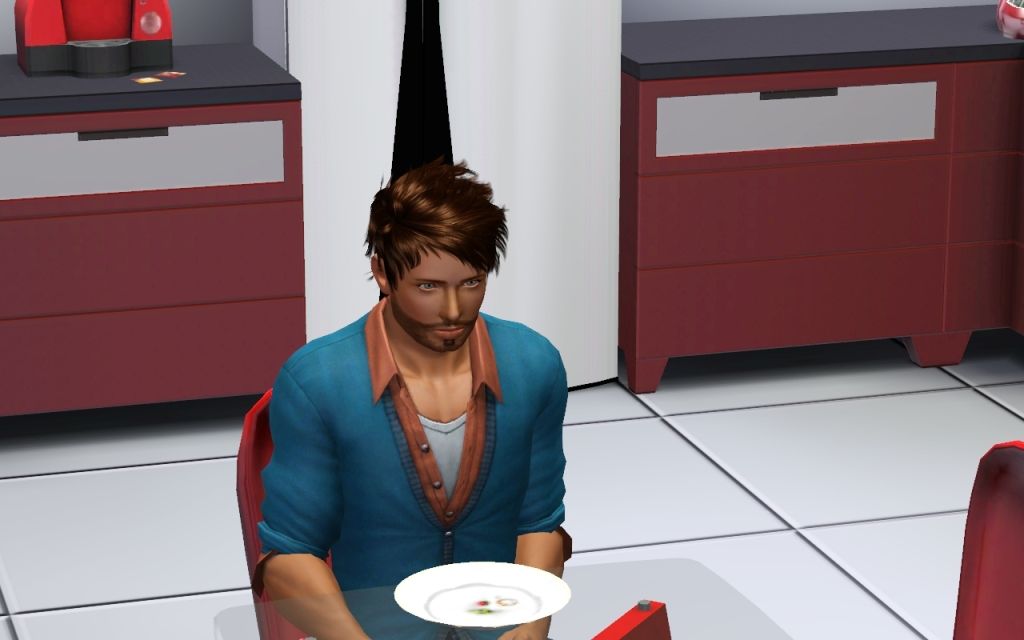 "That was delicious, yay I can cook"
"Oh lordy, you are so stupid. Its NOT cooking when its salad"
"Leave me alone to enjoy my greatness"
"hahhahhaaaaaaaaaahhhahahahaaaaaaaaaaahhahahaaaa"
"Stop laughing"
"I can't hahahahaaaaaaaaa heheheheeeeeeeeeeeee"
"Ok now what? Is it time to go see that girl and her mates yet?"
"Nope you have some cleaning to do first"
"Whaaaat?"
"Told you, you would pay, now get moving. I have a list - Dishes, toilet and mop up the puddle"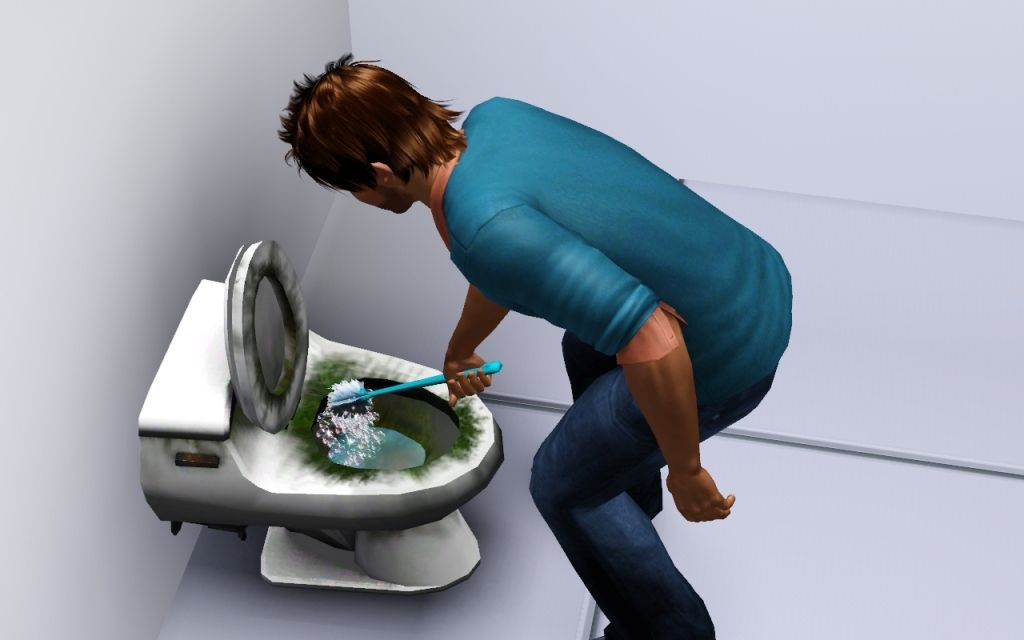 ---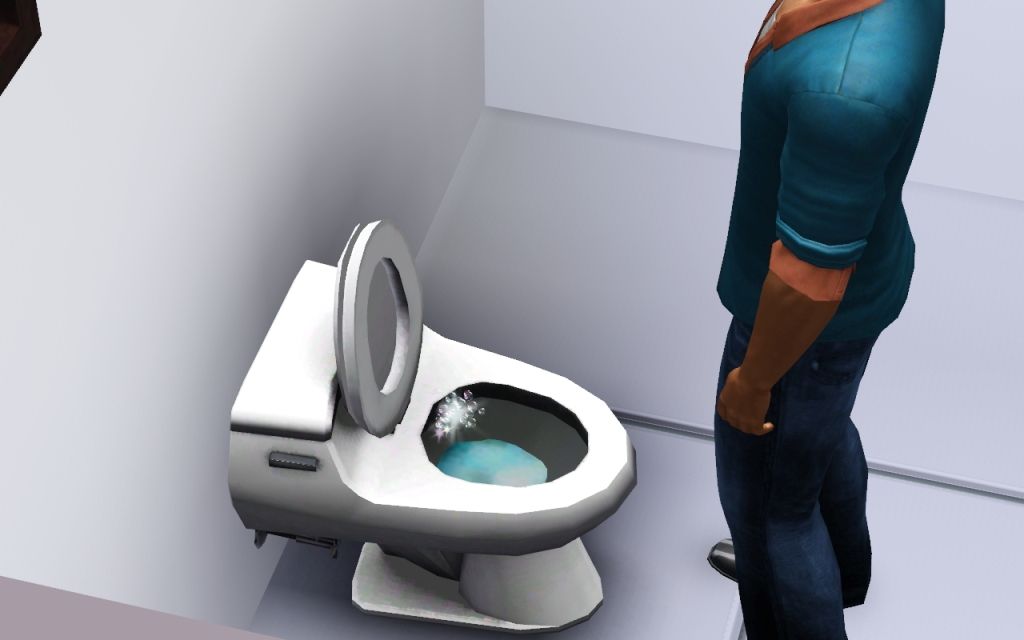 ---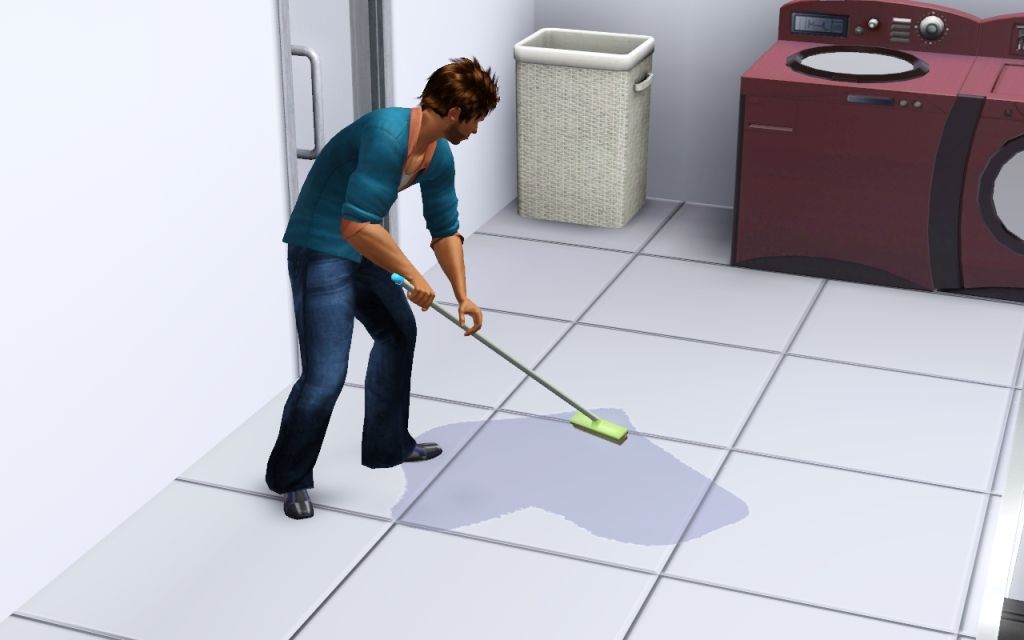 "Slave driver"
"Lazy"
"Done. Can I go now?"
"Yes its time to go"
"Oh nuts, nooooooooooo"
"What?"
"I washed my jeans with the address in the pocket, its turned to mush"
"Good grief, ok just get in the car, I will take you there"
"Thanks Mac, I don't know what I would do without you"
"Yeah yeah, whatever"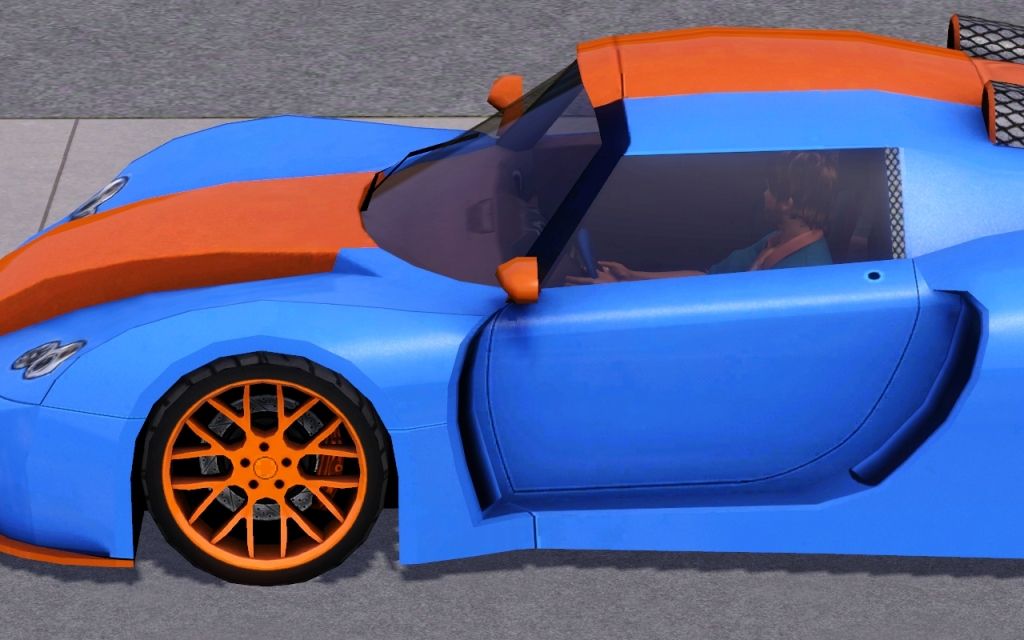 At the house only Amy is in. Clifton introduces himself. Amy invites him to stay and wait for Fantastic.
Then Amy decided to go to bed. Clifton wanders around not knowing what to do. he decided to go for a swim
"Mac, I need the toilet"
"Go to the one there, behind you"
"They wont mind?"
"I dont think so, just go quick"
While Clifton was using the bathroom. The other girls arrived home. Before he had a chance to come out the bathroom to say hi to Fantastic, something strange happened
"Who the hell are you?"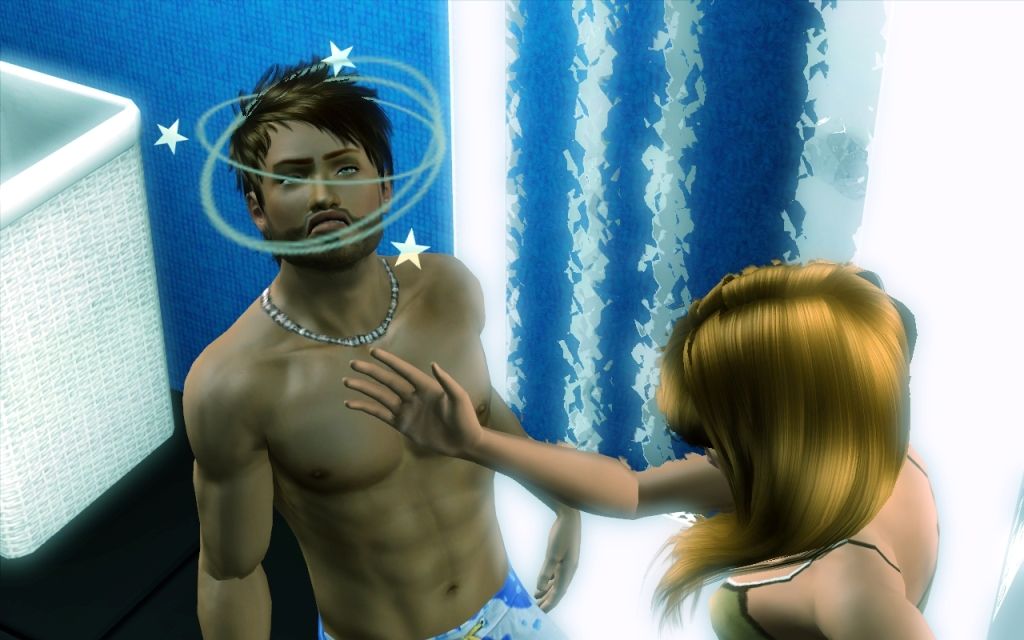 "What are you doing in my bathroom? Take that, you, you toilet user"
"But, I'm Clifton, Amy said I ......."
"Get out"
"Fine, I'm leaving, you weirdo"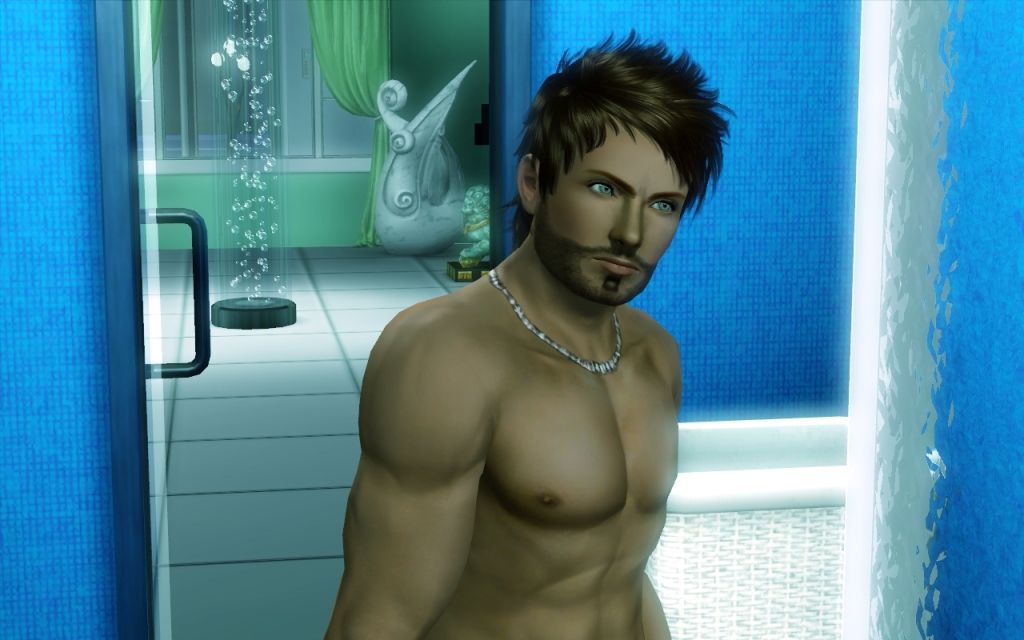 "Oh and by the way, Loopy, that's your name right? Well you definately live up to your name you are LOOPY"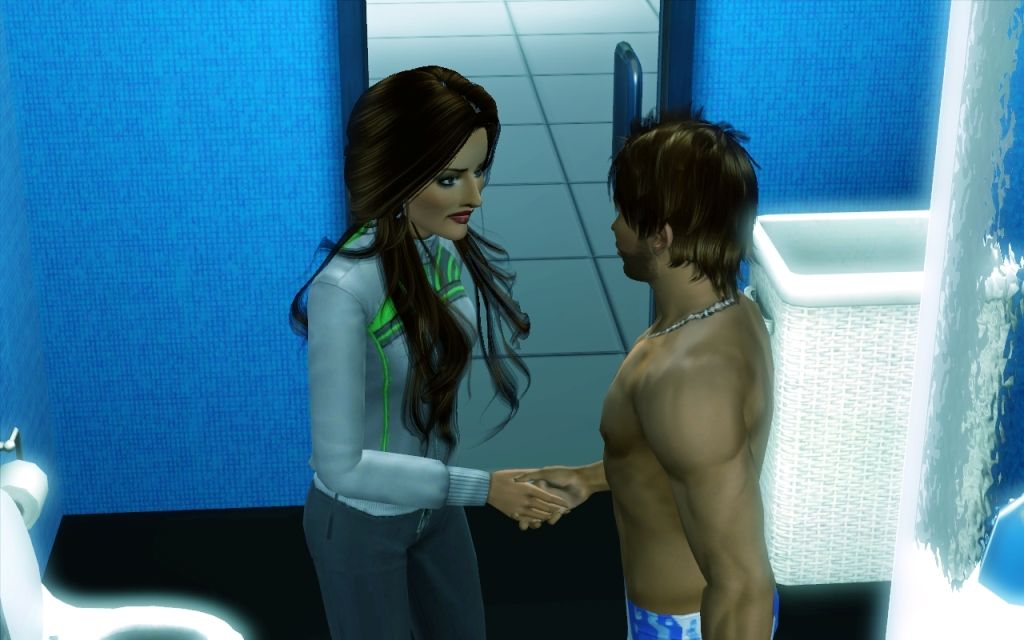 "Oh Clifton I am so sorry, please stay for a bit"
"Ok, keep her away from me though, she is nuts"
"Lets eat, come and meet the girls"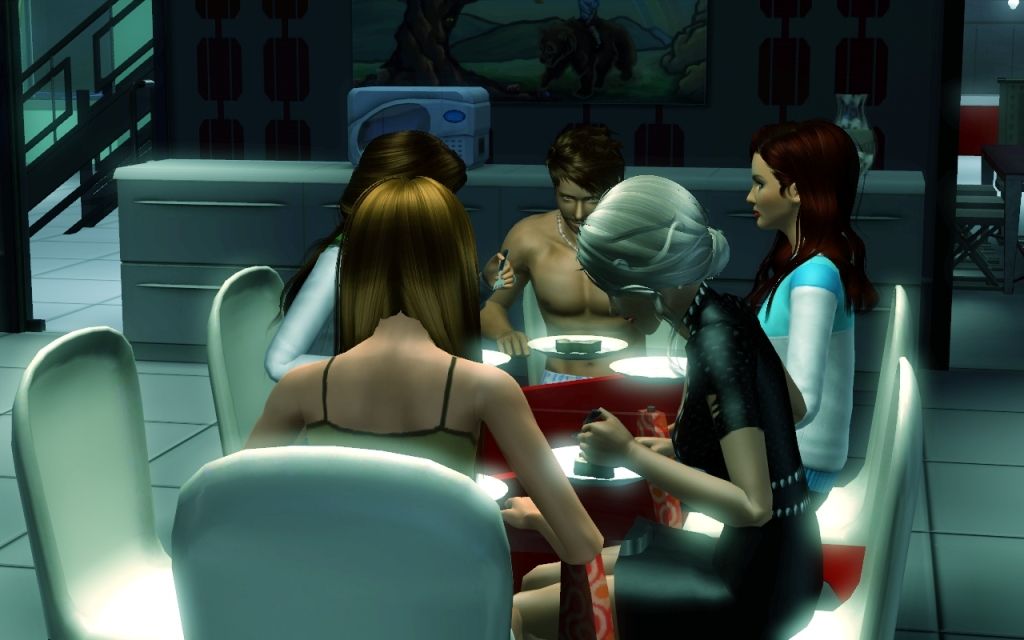 "Girls, this is Clifton."
"Hi ladies"
"Here we have, Nevaeh, DV and Loopy, who I think you have met LOL We also share with Glitt and Amy, who are in bed I think"
"Yes she hit me. I have met Glitt too, we played soccer and Amy let me in"
"Oh yeah so you did, LOL, you met Glitt at the festival. Amy works a lot so she is quite tired just now, I am glad you got to meet her"
After they ate, it was very late and a full moon, so Clifton headed home. he wanted to get back before the creepy things turned up.
Tune in next time to see how things go with his new found lady friends and to see if he can patch things up with Loopy. Maybe he will sweet talk her round or maybe she will slap him again. Who knows what lays ahead.