Hi everyone!
This is a quick run down of how the HQ Mod works, how it's installed, and how to use it once you have it in the right place.
It's slightly different to installing any other mod, which is why it can be confusing!
((This will be moved into the FAQ directory once I'm done organising it, for now it'll stay here))
So, here we go:
Explanation: What is the HQ Mod?
The 'mod' is better described as a 'Tool' or a 'Program' to be honest.
Put in very simple terms, it overwrites the file that controls how much texture detail the game can render - with it switched on, higher texture resolutions than the game normally handles are forced, and your graphics hardware pushes to display sim and texture detail much more sharply.
When the tool is switched off, the 'old' file comes back and your rendering will go back to normal.
That's pretty much the most simple way to explain how it actually works.
Warnings (please don't skip, all of this info is very important!)
This mod pushes your graphics hardware to work harder, which is going to increase the risk of heat damage.
Unless you have a graphics card with a dedicated fan or extra cooling, this mod is not recommended for every day game play.
Basically, this mod will absolutely batter your graphics hardware. Be careful.
Those of you with integrated graphics hardware (something like Intel HD graphics - or anything that is NOT a dedicated card) - I really would not recommend this mod at all. Your integrated graphics aren't even supposed to be able to run the game, never mind push for better display.
You'll do some serious damage, so just stay away.
(I can tell you from personal experience - machines with integrated graphics are NOT built for gaming and certainly will NOT be able to handle this.)
If you're not sure whether this mod is suitable, tell me your system specs and I'll tell you whether or not you can run it.
A good rule of thumb is that if your computer can handle high graphics settings in general, you're ok to use this mod.
With the mod installed, even with capable cards, you're increasing the risk of graphics glitches. Some textures may not display properly, and you might get some blurring of very low resolution textures (particularly on custom content items, where the low res textures aren't fixed, they're just being made even more noticeable by the mod).
Just be aware of that and don't complain when it happens, there's nothing you can do about it and it's nobody's fault.
The mod only works on LOD0 - which put simply, is the very closest camera distance setting in the game.
LOD stands for Level Of Detail, LOD zero is the closest distance and highest detail.
- Basically, you need to be really close to your sim to see a difference.
If it had been applied to all LODs, lets just say that unless your computer is kept frozen in a block of ice it would probably catch fire haha!
The mod will only work if you have your TEXTURE DETAIL graphics settings on HIGH
(those of you with computers that can't handle high graphics settings, this should be your indication that you
can't
use this mod.)
Set up Instructions:
Download the tool
here
- after the adfly click 'skip ad' and you'll be taken to Sourceforge.
- click v1.0.0.0
- You need the second file in the list (s3hq v1.0.0.0.7z)
Save the file wherever you want (I just use my desktop or documents).
Extract the files - you're only going to need the actual application file, you can delete the others.
This is where this is different to installing a 'normal mod'
Ideally, it needs to go in your Game/Bin folder in Program Files.
It doesn't HAVE to go in there, you can run the tool from any location, this is just the location the original mod page gave.
So, for those of you who maybe already had it in there, or are just not sure of where to put it, you can use the Game/Bin folder explained below if you want to:
This location varies for those of you who installed directly via a disc, and those who installed a digital download.
For disc users on a 64 bit system (most common) it's C:\Program Files (x86) > Electronic Arts > The Sims 3 > Game > Bin
For download users, if you used Origin, it's C:\Program Files (x86) > Origin Games > The Sims 3 > Game > Bin
Similarly for other download users, it'll be in the folder of the download client.
I installed with Origin, so this is my Game/Bin folder:
Just shove it in there with all the other files.
You may need to give admin permission to add the file to the folder.
How to use it:
Run the application. You MUST run as administrator or it won't work.
(If you're not already set as admin, right click and choose 'run as administrator')
This is what the interface looks like:
Click the top button to turn on the mod.
The options shown in the picture are the highest possible settings.
You can adjust the slider lower if this resolution causes problems.
Click the button at the bottom to set the texture size limit, and that's it.
You'll get a message saying "Texture limit has been set successfully".
Close the tool and run the game. Zoom in on a sim to see the difference.
To turn it off, QUIT FIRST then just run the tool again, and click the big top button to turn it off.
Patching:
Because the mod has been made into a tool, it
doesn't need updating
with game patches.
When there's a new patch, just turn OFF the mod, then patch, then turn it back on. (bearing in mind it's not meant to be used for every day game play anyway)
This was taken with the mod switched on, so you can see what it does.
This is completely unedited. Nothing at all done to it, just cropped.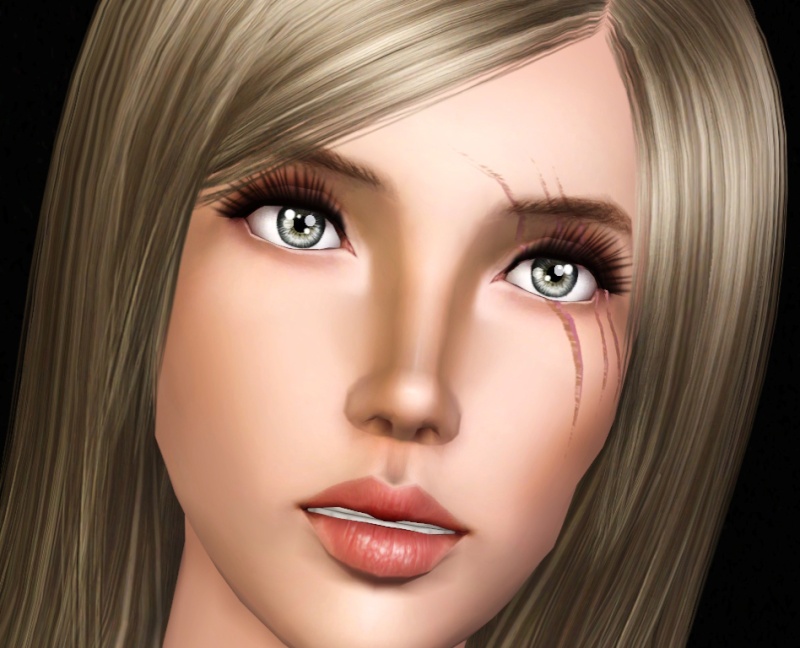 Tips to maximise effect:
- Stay zoomed in close. The closer you are, the better this is going to work.
This
No Fade camera mod
is very useful for getting in close.
- Work on your lighting. The HQ mod is amazing when you line up the lighting properly to maximise shadow and highlights.
- Because the mod increases the texture size limit, creators who understand this have begun to use bigger texture sizes to create their content
Things like facial custom content (eyes, make up etc) can be made with bigger texture sizes to maximise detail.
These items will look MUCH better with the HQ mod.
People like
Elexis
,
Eternila
(also at
MTS
), the creators at
S-Club
,
Pralinesims
,
MissDaydreams
.... and more that I can't think of from the top of my head now (I'll add to the list as and when I remember)
I hope this is useful. I tried to be as simple but thorough as I could.
If there's anything that doesn't make sense, if you have more questions, or want me to check your hardware for compatibility with the mod, just let me know!